A computer database program developed by a Lawrence man is making it easier to monitor the effectiveness of prescription drugs at Lawrence Memorial Hospital, and other hospitals are beginning to take note.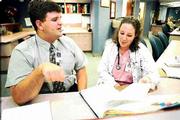 The pharmaceutical care database developed by Jeff Pierce, clinical coordinator of pharmacy at LMH's pharmacy department also reduces the time pharmacists spend handling paperwork.
"It helps capture all the clinical stuff we are doing with patients and makes it available in real time to pharmacists," said Pierce, 29, whose database was installed early this year.
And its use could soon expand.
When the system recently was featured during a meeting of the Kansas Society of Health System Pharmacists in Overland Park, it sparked inquiries from other pharmacy departments interested in buying the program.
No deals have been signed yet, but Pierce and his colleagues are preparing for prospects.
"There are a lot of other features we can add to it," Pierce said. "We're still playing with it."
The LMH Pharmacy Department also earned the Innovative Clinical Practice Award during the meeting because of the program.
The system permits pharmacists to compile information about drugs given to patients, what those drugs are supposed to do and how long they take to be effective, Pierce said. Other information also is typed into the database, such as side effects and the results of taking the drugs over a period of time.
Previously, LMH pharmacists and doctors had to fill out handwritten forms, sometimes after patients left the hospital. Pierce then would collect the forms and enter their information into the computer.
Because of a computer upgrade and Pierce's program, pharmacists and doctors now enter the information themselves. That means Pierce can collect it more quickly and easily. It also is more easily passed on to pharmacists working different shifts.
One of the duties of hospital pharmacists is to personally visit with patients about prescription drugs and their effectiveness. Since pharmacists don't have to spend as much time on paperwork, they can record intervention information faster, Pierce said.
Before the new database came online, pharmacists recorded an average of 330 patient interventions per month. Now the average is 800 per month.
"The advantage for us is this makes it easier to follow up on a whole lot of things."
Pat Parker, director, LMH pharmacy department
"It's not that the pharmacists are doing more," Pierce said. "It's just that we're able to capture that information in the database much faster."
Communications with doctors about patient needs also has improved. For example, earlier this year two patients suffered side effects from a drug for hypertension.
Working together and using the database, doctors and pharmacists identified and noted the side effects. They forwarded the information to the federal Food and Drug Administration, where other complaints were filed.
The drug has since been taken off the market, Pierce said.
"Many times things that happen with drugs are unpredictable," said Pat Parker, director of the pharmacy department. "We're able to monitor and capture that information. The advantage for us is this makes it easier to follow up on a whole lot of things."
The next step is to fine-tune the program, Parker said, to improve comparisons of drug effects. The program also can be used as an educational tool for pharmacists new to the hospital, including interns.
"We'll be able to show them these are types of patients we see here and these are the kinds of problems you will see," Parker said.
Copyright 2018 The Lawrence Journal-World. All rights reserved. This material may not be published, broadcast, rewritten or redistributed. We strive to uphold our values for every story published.