At the ripe age of 6, Kale Joyce announced findings of his research project.
Kale said he had uncovered evidence, based on personal studies at the dining room table, that homework was boring.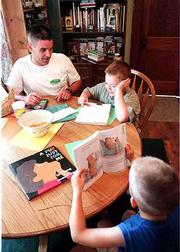 "It's no fun," he said. "You can't watch cartoons."
Of course, his conclusion about the merits of extracurricular academic work didn't stop parents Holli and Jim Joyce from ushering the Pinckney School first-grader to the table to read part of "A Bug, A Bear and A Boy Go to School."
He wasn't alone 8-year-old brother, Alek Joyce, worked with his dad on a 20-word spelling assignment.
In a direct challenge to Kale's findings, the third-grader said he enjoyed homework, especially reading.
"I don't mind," Alek said. "It usually doesn't take long."
In fact, both Joyce boys were right.
Homework can be a pleasant or dismal experience for child and parent.
But, a balance can be reached if families tackle homework with a solid game plan.
The U.S. Department of Education offers advice to parents and guardians about homework. One of the most important considerations is to set a regular time to do homework. What is successful for one household or one child may not work for another. Late at night, when children are tired, is seldom a good time.
A location should be designated as the study area. The dining room table shared by the Joyce brothers is a good spot. The locale isn't fancy, but it has good light and is fairly quiet.
Southwest Junior High School eighth-graders Caitlin and Meghan Shanks, 13, have slightly different approaches to homework. Caitlin likes to study at a desk in her bedroom, while Meghan usually sits on her bed.
Their mother, Pam Shanks, said the girls usually comply with the education department's recommendation to remove distractions during homework periods.
"Generally, the rule is they get everything done before watching TV," she said.
In addition to the television, the education department suggests parents discourage social telephone calls during homework time.
It's also a good idea to keep pencils, pens, erasers, writing paper, a dictionary and other essentials at the study place.
The Shanks' twins said teachers should be mindful of the volume of homework assigned students.
"Sometimes it's overwhelming," Caitlin said. "One day you have homework in every class. On others, there's nothing."
Educators do caution against dumping too much work on children outside of the classroom. Pupils in first through third grades are most effective if their homework doesn't exceed 20 minutes each school day. Students in fourth through sixth grades can handle up to 40 minutes. Generally, up to two hours of homework is suitable for students in seventh grade and beyond.
"We spend about one hour on homework each school night," Meghan said.
Tom Christie, executive director of curriculum for Lawrence schools, said homework helped children do better in school when the assignments were meaningful.
"It needs to be relevant and there has to be accountability," Christie said.
In other words, he said, homework should be returned to students with constructive comments from the teacher.
Janice Nicklaus, executive director of instruction in the Lawrence district, said adults need to understand there's a line between supporting a child doing homework and actually doing the homework.
She said some children acquire "learned helplessness" when adults are too helpful.
"You need to be cautious," Nicklaus said. "You don't want that student to be dependent on the parent."
Adults also can inhibit the homework process if they take on the role of teacher.
"We want to think about being there to support, but not taking on the role of teacher," Nicklaus said.
She said parents or guardians should strive to set a good example for youngsters. Children are more likely to study if they see parents reading, writing or doing things that require thought and effort.
"It's important for your child to see you reading," she said. "There is so much that says, if parents read with children, that impacts learning now and down the road."
Copyright 2018 The Lawrence Journal-World. All rights reserved. This material may not be published, broadcast, rewritten or redistributed. We strive to uphold our values for every story published.