St. Petersburg, Fla. — The Kansas City Royals already have won more games than they did last season with 26 left to play.
Mark Quinn hit his first career grand slam and Blake Stein won his fifth consecutive decision as Kansas City beat the Tampa Bay Devil Rays, 8-2, Sunday to top its final 1999 victory total.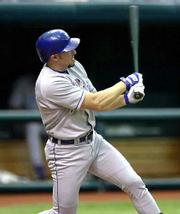 The Royals have won three straight games after losing the series opener. Kansas City 64-97 last year is 65-71.
"It's good to go ahead of the victories with 20-plus ballgames to go," Royals manager Tony Muser said. "We have improved in a lot of areas. In some areas, we have not improved as much as we'd like. But the game is played everyday, you try to come out, do the best you can and compete."
Quinn, a rookie who has 20 homers and 67 RBIs, hit his grand slam in the Royals' six-run third inning.
"I went up there and told myself, I'm going to look for my pitch," Quinn said. "I'm not going to chase anything. He threw me a slider middle-in and I didn't overswing. I just tried to hit the ball hard and it got out."
Stein (6-3) allowed one run and four hits over 61/3 innings. He struck out five and walked five.
Kansas City's Carlos Febles and Johnny Damon each drove in two runs. Damon extended his hitting streak to 11 games and stole his AL-leading 39th base.
Febles, making his first start at second base since going on the 15-day disabled list with a right ankle sprain Aug. 14, had an RBI single in the third inning. After Damon's grounder put the Royals ahead 2-0, Quinn hit his homer off Dave Eiland.
"He's filled the gap from (Carlos) Beltran being gone with a knee problem," Muser said. "He's really filled in nicely, to the point where we haven't really missed anything. A lot of people don't appreciate that, but managers appreciate it because they know when you lose a guy in your lineup that's a pretty good offensive player and somebody steps in and really keeps the heartbeat going, that's valuable."
Muser said Beltran (right knee bone bruise) and left-hander pitcher Paul Spoljaric (strained lower back) should rejoin the team by Tuesday. Both have been on rehab assignments at Triple-A Omaha.
Eiland (2-3) went five-plus innings, allowing seven runs and seven hits.
"It was unacceptable for me," Eiland said. "I beat myself. Left some balls up, too many balls up. I made the mistakes. I'm solely responsible for this loss. It's all on me. I put us in too big of a hole to get out. I'm better than that."
Febles had a run-scoring grounder and Damon an RBI single in the sixth as the Royals took an 8-1 lead.
John Flaherty had a sacrifice fly in the fifth inning, and Greg Vaughn hit an RBI single in the eighth for the Devil Rays.
Tampa Bay loaded the bases on three walks off Stein with one out in the seventh. Kris Wilson replaced Stein and retired Gerald Williams on a fielder's choice and Bobby Smith on a grounder.
"That's one of the best team efforts, as far as pitching, hitting and defense," Stein said. "Everything was involved. It was outstanding."
Tampa Bay left eight runners on base.
"When you get behind like that, it digs a hole that's tough to come out of," Tampa Bay manager Larry Rothschild said. "We had opportunities to get back into the game, but didn't."
The Royals are 26-18 in day games, including six straight victories.
Notes: Three of the Royals' five grand slams this season have come against Tampa Bay. Jermaine Dye has the other two, including one Friday. ... Flaherty has a six-game hitting streak following a 2-for-30 skid. ... The Devil Rays have been outhomered 97-61 at home. ... The Royals, who hit three home runs in the four-game series, have just 56 homers away from their Kauffman Stadium. ... Vaughn has struck out 39 times and has 32 walks over the past 34 games.
Copyright 2018 The Associated Press. All rights reserved. This material may not be published, broadcast, rewritten or redistributed. We strive to uphold our values for every story published.