A Sunday afternoon grass fire scorched nearly 15 acres of land, east of Lecompton.
Lecompton firefighters received a call of a grass fire about 4:30 p.m. at 2015 East 773 Road on Pieter Berendsen's land.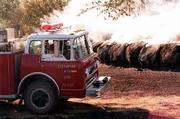 "Apparently he was burning something in a barrel, and it got away from him," Lecompton Assistant Fire Chief Danny Rees said. "Luckily we got to it before it got into the woods."
The dry heat of the last several weeks only compounded the problem of fighting the fire, Lecompton Fire Capt. Randy Cheek said. Temperatures reached 102 degrees Sunday.
"There's no way anybody should be burning anything at this time," he said. "A little ember will get in the tall grass. There was a point where we thought we would lose control of the fire, because of how quick it spread."
Joined by firefighters from Kanwaka and Wakarusa Townships, Lecompton officials brought the blaze under control in about an hour. The fire damaged nearly 20 bales of hay, Cheek said.
Officials initially reported the fire had damaged 9 acres of land, but later Sunday night updated the number to 15.
No one was injured in the fire, but initially it was thought that a structure might be in the path of the flames.
"We never had a structure involved, but we thought we had two fires going," Rees said. "It turned out to be just the corner of the same fire."
Cheek said that even with a burn ban in effect in Douglas County, he hopes that landowners will take notice and not burn anything until some rain returns.
"We are risking our lives and equipment and a lot of expense," he said. "We are at a critical stage here. We don't want any fires at all."
Copyright 2018 The Lawrence Journal-World. All rights reserved. This material may not be published, broadcast, rewritten or redistributed. We strive to uphold our values for every story published.