The good news for Free State High's football team is that it doesn't have to open with Class 6A perennial powerhouse Olathe North this season.
The bad news is the Firebirds must face defending co-Sunflower League champion Shawnee Mission West in tonight's season opener instead.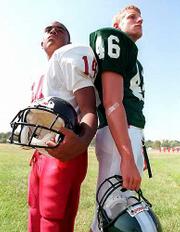 "Regardless of who you open with you want to make sure that you do your very best to come out with a victory to build on," FSHS coach Bob Lisher said. "You want to do everything in your power to be successful in that first game."
Kickoff is 7 p.m. at SM South District Stadium.
The Vikings finished 7-2 overall and 5-1 in the league last year, good for a three-way tie for the conference crown with the Eagles and Olathe South.
SM West's lone league loss was a 28-7 setback against Free State, during which the Firebirds intercepted then-junior quarterback Andy Majors a school-record five times. Majors, who went on to earn all-league honorable mention honors, will be Free State's chief concern again tonight.
"The key to stopping their offense is getting the ball out of Andy Major's hands pretty quick," Lisher said. "We need to be able to make him throw under pressure and not escape the pocket like he did on us last year. And when he's running the option we want to get the ball out of his hands as quick as possible."
Majors was the fifth-rated QB in the Sunflower League last year and finished sixth in total offense with 903 yards passing and 357 yards rushing.
"He definitely is kind of our catalyst as to what we can do and can't do, on offense anyway," SM West coach Jon Krug said.
While the key contributors from last year's game might be gone Free State's Jake Lawrence (17 carries for 145 yards and three touchdowns) and Chris Wheatley (12 carries for 71 yards) and SM West's James Churchill (23 carries for 112 yards and a TD) and Paul Vassor (six receptions for 61 yards) they certainly aren't forgotten.
"From what I understand they've graduated quite a few players," Krug said of the Firebirds, who lost every starter on both sides of the ball. "Their offensive backfield was awesome last year with Lawrence and Wheatley. They were fantastic players.
"I know Bob Lisher is an excellent coach and he gets his kids to play hard. They're well disciplined and they'll be ready for the ball game. You've got to go out and play regardless of who you've lost," Krug added.
The Vikings also have had to deal with replacing players, namely their leading receiver in Vassor (17 receptions for 340 yards and four TDs).
"Well Paul is the kind of guy who's a big-play kid," Krug said. "I don't know if you can replace his impact. We have some younger guys that have come through and been around a long time.
"We might not have that one kid who can replace him but rather a couple kids."
With only 34 players on their roster, depth is a luxury the Firebirds are without.
The limited numbers could be key tonight, considering the heat wave that has blanketed the Midwest. Today's weather forecast once again calls for a high temperature of over 100 degrees with the low in the low 70s.
"The depth is going to be a concern, especially with the heat," Lisher said. "There's going to be a lot of kids that have to go in to play, ready or not. They're going to have to step up and play and play with the intensity it's going to take for everybody to be successful."

New-look schedule: There's always an amount of uncertainty heading into the first game, but the past two years SM West has opened with Leavenworth. That's no small task considering the Pioneers' wide variety of offensive formations and multiple-receiver sets.
"I think your first game every year is hard to prepare for," Krug said. "We've opened with Leavenworth the past two years. Leavenworth runs so much at you that you can't really prepare for them. So you just try and worry about yourself, look at what you do well and don't do well and then make some game adjustments. That's what we'll try to do this year."

Hot, hot, hot: Both the Firebirds and Vikings took extra precautions during practice this week to deal with the heat. In addition to added water breaks, SM West has had to alter its daily routine.
"Shawnee Mission has a heat schedule that has been in place," Krug said. "With some of them (the practices) we've had to be in the evenings and late in the day. There's been some restriction about what you can and can't do and what to wear.
"I think times are just a little bit different. I played in times and I'm sure some older guys did too that it was hot and you took extra precautions and just dealt with it."

Starter switcheroo: FSHS senior tailback Frankie Noyola had been slated to start tonight, but won't play. He was suspended one game for violating team rules, Lisher said.
Copyright 2018 The Lawrence Journal-World. All rights reserved. This material may not be published, broadcast, rewritten or redistributed. We strive to uphold our values for every story published.