As home sale prices continue to escalate in Lawrence, home buyers must choose between fixed-rate or adjustable mortgages a decision that can make a big difference for the checkbook.
Bankrate.com, which tracks the mortgage market and financial industry, wants to help make the decision a little easier.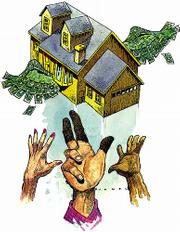 The North Palm Beach, Fla.-based company recommends that home buyers let their interest rates "float" during the next month to six weeks, given the likelihood that rates either will hold steady or fall.
Already, choosing an adjustable over fixed-rate could save a home buyer some money.
At Capitol Federal Savings in Lawrence, the monthly payment for a 30-year fixed-rate $100,000 loan would be $716. That's 2.4 percent higher than $699 a month for a similar adjustable-rate mortgage. Lawrence home prices averaged almost $150,000 last month up more than 13 percent from a year earlier.
"A lot of first-time home buyers think they want to go with a fixed rate, because it's more steady or secure," said Jessica Kufahl, a CapFed mortgage officer. "But with an adjustable rate, they can get more home for that lower rate. That's the most difficult thing to decide. It structures your payments and everything else."
In its latest Rate Trend Index, experts surveyed by Bankrate.com said that a heated presidential election, tumultuous stock markets and recent strife in the Middle East should lead to rate decline during the next month to 45 days.
Two-thirds of the experts surveyed said rates should drop, while 31 percent expect rates to hold steady. Only one of the 32 mortgage bankers, brokers and economists surveyed predicted an increase.
With the presidential election now a week away, the Federal Reserve Board has avoided boosting interest rates, survey respondents said. Demand for mortgages also has slipped as cool weather approaches.
"Supply and demand," said Bev Jagiello, of Absolute Mortgage Inc. in White Bear Lake, Minn. "Demand is lower, (so) rates will tend to drop."
Michael Larson, a mortgage writer for Bankrate.com, said: "On a longer-term basis think three to six months rates should trend down."
Copyright 2018 The Lawrence Journal-World. All rights reserved. This material may not be published, broadcast, rewritten or redistributed. We strive to uphold our values for every story published.