Kansas University's football coaches won't name a Demo Bowl MVP, but Travis Watkins surely would get a couple of votes.
"My roommate dominated," KU freshman quarterback Kevin Long said of Watkins, a freshman defensive tackle. "He played real well. A lot of guys showed they could play, especially on the defensive side."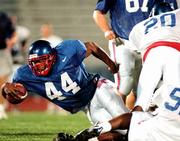 Watkins, a 6-foot-4, 280-pounder from Derby, was among several defensive standouts at Monday's Demo Bowl, KU's annual scrimmage between scout team players.
The Demo Bowl, a tradition introduced to Kansas by fourth-year coach Terry Allen, is meant as a reward for the scout teams' season-long service as tackling dummies for the varsity.
"It's an opportunity for coaches to see what the future's going to be like for the football team," said KU junior defensive end Brandon Lacy, a 6-3, 245-pound transfer from Tennessee-Martin who's sitting out the season under NCAA transfer guidelines. "We're kind of the unwritten heroes of the team. This is a chance to show what we can do."
Lacy and Watkins spent plenty of time in the KU backfield during Monday's hour-long scrimmage.
"They got after me pretty good," said Long, the only QB on scholarship who participated Monday, along with walk-ons Kyle Cernech and Matt Heider.
Lacy credited himself with "seven or eight" sacks and two forced fumbles.
Watkins was less generous.
"I probably had a couple," he said with a smile. "But you can't hit the quarterback. You never know. I might have gotten shook."
KU senior running back David Winbush isn't so sure. Like the rest of the varsity, which held a light walk-through scrimmage beforehand, Winbush was on the sideline hootin' and hollerin' over the big plays at the Demo Bowl.
"That 67 (Watkins) is going to be good," Winbush said. "I hate going against him in scout team. He is good."
Most of the defensive players looked good Monday. The offensive team never scored a TD and gained only a handful of first downs.
"A lot of offensive guys didn't know the offensive assignments," said Long, who completed a couple of nice passes and was intercepted a couple of times. "It's not their fault. The defense does have a little bit of an advantage, but it was fun. It's always good to have the chance to go full-contact."
In that regard, Lacy, who joined the team as a preferred walk-on, had an advantage over most of the rest of the Demo Bowlers. A native of Edmond, Okla., Lacy was recruited by KU as a senior at Santa Fe High to play tight end, but he wanted to play defense, so he headed off to Tennessee-Martin.
"I was a two-year starter," said Lacy, who was credited with 14 total stops and three quarterback sacks last season. "I wanted to play defense, and they said I was their No. 1 pick for a defensive player. They were going to build their defense around me. If I had come up here, I would have been a fourth-string tight end. But things changed."
What changed was UTM's approach to football. The Skyhawks cut their scholarships from 63 to 45, cut the coaching staff to five full-timers and sliced the budget across the board.
"The head coach left," Lacy said. "I was in my third coaching staff in two years. So my parents and I decided to see if there were other options. Coach (Dick) Moseley recruited me out of high school, and he said he'd give me a shot at big-time, I-A football."
Lacy can practice but can't play this season. He'll have two years of eligibility left and has no idea how much if at all he'll play over those two years.
"It's hard sitting out, but it's a learning experience," Lacy said. "I was a two-year starter, so I didn't have time to get developed. I weighed and was playing defensive end at a I-AA school. Now I'm working on my speed and size and trying to see what a D-I offensive lineman's like."
Watkins is taking a similar approach.
"Right now, I'm not big enough to play defensive tackle," Watkins said. "I gotta gain 20, 25 pounds. I need to get stronger."
Other standouts Monday included running backs Harold McClendon and Austine Nwabuisi, who each had a couple of nice runs, defensive back Santana Lane, who recorded an interception, and walk-on tight end Jason Farley, who had a couple of nice catches.
Copyright 2018 The Lawrence Journal-World. All rights reserved. This material may not be published, broadcast, rewritten or redistributed. We strive to uphold our values for every story published.