Downtown Lawrence's annual holiday trip back in time, with the clip-clop of hooves, rumbling wagon wheels and jingling bells, will continue.
The Eldridge Hotel's Old Fashioned Christmas Parade was in jeopardy last year when organizer Rob Phillips, general manager of the Eldridge, 701 Mass., said the cost was becoming too high.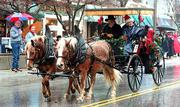 This year Phillips, who has played host to the parade of horse-drawn carriages for seven years, has help.
Peach Madl, owner of the Sandbar, 17 E. Eighth, said she could not imagine Christmas without the parade.
"It's a phenomenal thing," Madl said. "It is a great way to start off the season."
Madl and Elaine VanDeventer, vice president of commercial lending at Intrust Bank, have stepped up to organize a fund-raising campaign. Madl said they are trying to get a business or family to sponsor each carriage.
For $175, sponsors will get their names on carriages and dinner with all the participants and sponsors the night before the parade. A special account has been set up at Intrust Bank.
The money will finance the dinner and hotel expenses. In the past, Phillips has provided lodging and food for the participants, a cost that he said had increased to $15,000.
Madl said organizers have received 70 entries from several states. Past years have drawn almost 100 carriages.
This year's Old Fashioned Christmas Parade will be at 11 a.m. Dec. 2 on Massachusetts Street between Seventh Street and South Park.
Phillips has arranged for the horses to be kept at the Douglas County 4-H Fairgrounds. And he has personally thanked each participant.
"We're pleased to have help," Phillips said. "It looks like its going to be another wonderful parade."
Phillips said that with the help he has received this year, the parade's future is ensured for years to come.
"I don't think you could stop it now," he said. "And we don't want to."
Copyright 2018 The Lawrence Journal-World. All rights reserved. This material may not be published, broadcast, rewritten or redistributed. We strive to uphold our values for every story published.