Texas Tech's Derek Dorris was once torn between Kansas University and the Red Raiders.
On Saturday, Dorris tore up the Jayhawks by catching a school-record four touchdown passes in the Raiders' 45-39 victory at Memorial Stadium.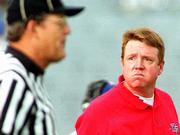 Dorris, a 6-foot-2, 200-pound senior from the small Texas town of Azle, said he thought Tech provided the right environment, even though he liked Kansas and the Jayhawks' coaching staff.
"We definitely needed this one," Dorris said. "After the last two weeks losing by a lot against Nebraska then losing by a little against K-State, we knew we could do it."
Texas Tech's coaches had Dorris matched against Quincy Roe, one of the Jayhawks' smallest defensive backs at 5-9. Roe couldn't overcome the five-inch height differential.
Texas Tech sophomore quarterback Kliff Kingsbury, who toasted the KU secondary for 405 yards, politely said he thought Roe played decent defensively.
"You can tell when a guy is down," Kingsbury said about Roe. "You can tell when he's out, too. ... Our whole offense was doing what we need to do to get in the end zone."
Another Tech player who chilled the Jayhawks was Wes Welker, a freshman wide receiver from Oklahoma City, who rushed for 42 yards and a touchdown on a reverse and burned the Jayhawks on a 66-yard punt return for another TD.
Welker had a whopping 271 all-purpose yards 72 receiving, 42 rushing, 88 on punt returns and 69 on kickoff returns.
"Wes Welker, without any doubt in my mind, is one of the better players in the country," Texas Tech coach Mike Leach said. "He just stepped up and just keeps earning himself more of a role on this team."
Kingsbury also was impressed with Welker, but stressed it was a team performance.
"I think we've gotten better each week," Kingsbury said. "It might not have looked like it to you all, but we think we have."
Texas Tech is 6-3, but still is one game away from bowl qualification because the Raiders have a 12-game schedule.
"I think everybody is conscious of (going to a bowl), but we don't really talk about it," Leach said. "We'll be focused in on the next one."
Leach defended his decision to have Chris Birkholz attempt a 44-yard field goal with a minute and a half left and the Red Raiders nursing a six-point lead.
The kick was blocked, giving Kansas one more opportunity 60 yards from the Tech goal.
"The field goal we got blocked, I think we could have kicked that off a lot better than we did," Leach said, apparently meaning Birkholtz kicked it too low.
Tech, which has never lost to Kansas in seven meetings, will play host to Texas next Saturday.
Copyright 2018 The Lawrence Journal-World. All rights reserved. This material may not be published, broadcast, rewritten or redistributed. We strive to uphold our values for every story published.