It's been five years since Poe released her debut album "Hello," but it might as well have been 25 years. In the half-decade that has lapsed, strong, cutting-edge female artists such as Poe, PJ Harvey, Tori Amos and Liz Phair have been replaced by navel-flaunting teenyboppers more concerned with choreography than songwriting. The considerable momentum gained from her debut's singles "Angry Johnny" and "Trigger Happy Jack (Drive By a Go-Go)" is but a faint memory. And her fan base known as the Angry Psychos has abandoned the trail of Web sites devoted to the singer years ago. True, Poe hasn't remained completely dormant, recording singles for various soundtracks, but the majority of her time has been spent sequestered in a home studio working on her Atlantic Records follow-up.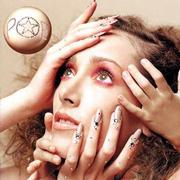 Now on a pace to make albums as often as Stanley Kubrick released films, Poe (given name Annie Danielewski) returns with the ambitious, aurally complex "Haunted." The enterprise began to take shape when Poe unearthed vintage cassette recordings containing the voice of her late father Tad Danielewski, a Polish-born documentary filmmaker and lecturer. She began to weave his voice into her music, creating an artistic conversation between the two.
"Haunted" will be released on Halloween, which is perfect for a project that also is a companion piece to a psychological horror novel. Written by her older brother Mark Z. Danielewski, "House of Leaves" is the tale of a home that is bigger on the inside than the outside and the psychic damage it does to the family who is living there. Dubbed by Newsweek a "literary Blair Witch Project," the labyrinthine yarn is told through extensive footnotes, different colored fonts and parallel stories. The diverse songs on "Haunted" mirror the ideas and mood of "House of Leaves," leading to a record/novel homologue that adds deeper meaning to each other.
Now having exorcised some personal ghosts, as well as brought her family together in a genuinely unique way, Poe is set to make a grand return to the music world. Rehearsing in Los Angeles for an upcoming tour, the 32-year-old artist speaks enthusiastically about "Haunted" from her cell phone while "hunting down caffeine on Santa Monica Boulevard in West Hollywood."
Are there any other examples you've come across of an album and novel tie-in?
I can't think of any, can you? I think it's a first. Ha, that's pretty cool. And a brother/sister no less which it would have to be in some ways because it's so many years of shared history that kind of prompted the whole thing.
Because "House of Leaves" really plays with character viewpoint and extensive footnotes and different fonts, it's kind of a "hard read." Do you think since so much is happening sonically with "Haunted" that it's a "hard listen?"
I don't think the CD is a difficult listen because there are hooks; there are things you can sing along to. To understand the CD as a whole, its narrative structure, what my dad's voice is doing there, that's a little tricky. But I don't think you have to go there if you don't want to. Of course, I want everyone to (laughs).
When did the pressure really start mounting to deliver your follow-up album?
The pressure was the worst at the very beginning. Then it disappeared because it wasn't doing any good. I've watched this whole sophomore effort syndrome for so many years with artists that I love who put out a second record immediately, and I'd feel disappointed. I made a promise to myself a long time ago that if I ever got a deal I would never make a record to capitalize on sales. I would do whatever it took to make a record that mattered to me.
Do you think you've noticeably improved with this record?
I've gained skills doing "Haunted" that I didn't have. Through trial and error I've made enough mistakes along the way with this record, but because I had a lot of control over it, I've learned lessons from those mistakes. I think I've improved even as a singer (because of) having the time to sit and sing a song as many times through until I felt I was expressing what was needed. Like I was telling my brother today, this record is the first thing in my entire life that I ever felt proud of. There wasn't a compromise on it. There wasn't a risk I didn't take. Whether anyone likes it or not, it's my first experience of being able to feel what it's like to be proud of something.
How much of a role does technology play in your creativity?
Pro Tools is the most liberating instrument I've ever found in my whole life. What it allowed me to do is kick everybody out of the studio. I didn't need an engineer or a second engineer or anybody. That didn't mean I didn't use people for certain things, but it meant that when it came down to me sitting and cutting up pieces of my dad's voice for 12 hours at a time or singing and writing a song like "If You Were Here," I was able to do that with nobody around. That enabled me to have such unbelievable freedom creatively freedom to go places emotionally that I couldn't have gone to with a bunch of people in the room.
How difficult is it adapting a Pro Tools-created record into a live performance setting?
Funny you ask because I'm doing that right now. The same technology that enables me to create that record is going to enable me to pull it off live. So far, I've got a DJ, and I'm printing a lot of loops and samples which he's going to scratch live. ... I've got two guitar players, one of them is really great at coming up with insane sounds, a bassist, a keyboard player who is all over samples, then I'm going to play all the samples of my dad's voice. I just think I should play those. It's the trippiest thing having my dad's voice right there. I can just press a button and hear him say, "It's a wonderful idea," over and over again. It's really pretty twisted when you think about it.
Was your father critical of your music?
He died (in 1993) before my first album came out. But one of the closest moments I had with my dad was when he was sick and we knew he was going to die. I had written "Fly Away," and I sung it to him just on a piano. It was one of the first moments in my life that he really heard me and saw me and understood me. There was a sort of agreement made with eye contact that we were going to be OK with each other.
Copyright 2018 The Lawrence Journal-World. All rights reserved. This material may not be published, broadcast, rewritten or redistributed. We strive to uphold our values for every story published.