A former Kansas University administrator will become the chief judge of the U.S. 10th Circuit Court of Appeals.
Judge Deanell R. Tacha will take the reins of the Denver-based court in January, replacing Judge Stephanie Seymour at the head of the 16-judge panel that hears appellate cases in Kansas, Colorado, New Mexico, Oklahoma, Utah and Wyoming, plus those portions of the Yellowstone National Park extending into Montana and Idaho.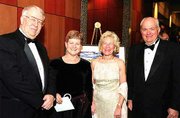 "It's a privilege to serve," Tacha said Wednesday. "I also consider it a heavy responsibility."
Tacha, who maintains a Lawrence office, has been a member of the Court of Appeals since 1986, when she was appointed by President Ronald Reagan. Before Tacha's appointment to the bench, she was vice chancellor for academic affairs at KU, and had been a member of KU's law school faculty since 1974.
"We bask in her glory," said Georgann Eglinski, associate dean of KU's law school. Eglinski said Tacha maintains strong ties with the school.
"She's developed a reputation as an outstanding judge and will be an outstanding chief judge," Eglinski said.
Patrick Fisher, clerk for the 10th Circuit Court of Appeals, said Tacha was named to the post because of her longevity.
"When the chief judge steps down, the active judge who is most senior and who hasn't reached age 65 becomes the chief judge," he said.
The position carries some administrative duties, he said, and a little bit of bully pulpit power among fellow judges.
"In terms of leadership of the Court of Appeals ... she is first among equals," Fisher said.
"It's like herding cats," Eglinski said of Tacha's new position. "But a strong judge, through reason, can influence a court."
Copyright 2018 The Lawrence Journal-World. All rights reserved. This material may not be published, broadcast, rewritten or redistributed. We strive to uphold our values for every story published.