New York — Derek Jeter and the New York Yankees wasted no time sending a message: first pitch, first inning, home run.
Jeter led off with a drive over the left-field fence and the Yankees led the rest of the way, beating the New York Mets, 3-2, Wednesday night in Game 4 to move within one victory of their third straight World Series championship.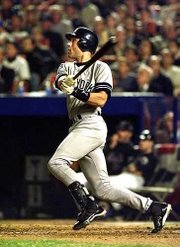 Derailed a day earlier, the Yankees got right back on track in taking a 3-1 lead in this Subway Series. Jeter homered and tripled.
"He makes thinks happen," Yankees manager Joe Torre said. "The kid's been around only five years he has all the qualities, leads by example."
Mariano Rivera finished off 41/3 scoreless innings by the Yankees bullpen. He tied Rollie Fingers' record with his sixth career Series save.
A sellout crowd of 55,290 at Shea Stadium seemed much more subdued than Game 3, possibly because of a much larger presence of Yankees fans.
The ballpark figures to be a lot louder either way tonight when the Yankees try to become the first team since the 1972-74 Oakland Athletics to win three titles in a row.
"We take the same approach every Series, whether it's the World Series or the first two rounds," said Jeter, whose team swept Atlanta and San Diego in the last two World Series. "We've been fortunate the last few years. These Mets teams are the best team we've played in the World series so far. These guys don't want to lose. They have a resilient team."
Andy Pettitte will start Game 5 against the Mets' Al Leiter. Of the prior 40 teams to take a 3-1 lead in the World Series, 34 have gone on to win the championship.
The 1985 Kansas City Royals were the last team to win the World Series after trailing 3-1.
"It's the Yankees. We have to win three in a row," Mets center fielder Jay Payton said. "It doesn't get much tougher than that."
Mike Piazza's two-run homer pulled the Mets within 3-2 in the third inning, and there was no more scoring as both managers made early moves to the bullpen.
Yankees starter Denny Neagle was pulled after 42/3 innings, with David Cone coming in to retire Piazza on a popup to end the fifth.
Reliever Jeff Nelson pitched 11/3 innings and was credited with the win. Mike Stanton struck out the only two batters he faced and Rivera pitched two innings for his first save of the series, with Yankees fans erupting when he struck out Matt Franco to end the game.
Losing pitcher Bobby J. Jones was lifted after five innings. Relievers Glendon Rusch, John Franco and Armando Benitez kept the Yankees from breaking away.
The Yankees scored single runs in each of the first three innings. They did it without a contribution from cleanup man Bernie Williams, who was hitless in four at-bats and dropped to 0-for-15 in the Series.
Playing on the 14th anniversary of one of their most famous games the Bill Buckner-assisted comeback in Game 6 of the 1986 World Series the Mets had no luck from the start.
Jeter stepped in and, with many fans still getting settled, launched a drive to deep left. Among those to cheer was one of his best friends, Seattle shortstop Alex Rodriguez, from the front row.
It was a stunning blow, and only the eighth time a World Series game had started with a home run, and the first since Rickey Henderson did it for Oakland in 1989. The hit also extended Jeter's hitting streak in World Series play to 13 games.
"We wanted to take the crowd out of the game," Jeter said. "I've been known to swing at the first pitch. When you play these types of games, when runs are tough to come by, you want to score early. It was huge for us."
In the second, Paul O'Neill tripled for the second straight day after not hitting any since July 23, 1999 and, following an intentional walk to Jorge Posada, scored on Scott Brosius' sacrifice fly.
New York made it 3-0 in the third. Jeter led off with a triple, giving him eight hits in this Series, and trotted home as Luis Sojo grounded out.
Mets fans did not seem daunted, probably figuring their team would have a chance to get back into the game against Neagle.
They were right.
Slumping Timo Perez opened the third with a single up the middle and Piazza, who hit a long drive that hooked foul his first time up, lined a 75 mph changeup into the bleachers in left-center field.
Piazza's second two-run homer of the Series also marked his fourth home run of this postseason a lot of production from the All-Star catcher who went into this October batting only .211 (12-for-57) with two homers in past postseasons.
Notes: Neagle became the 16th pitcher to start a Series game for an AL and NL team, having done it for Atlanta in 1996. Orel Hershiser was the last to do it, starting for Los Angeles in 1988 and Cleveland in 1995. ... When Todd Zeile tapped a foul down the third-base line in the fourth, Mets fans shouted "Run!" In Game 2, he stood at the plate when his slow trickler rolled from foul ground into fair territory. ... Jose Canseco made his first appearance of the Series. He looked at strike three as a pinch hitter with two on to end the Yankees sixth. ... The Yankees' locker room was flooded was flooded after the game by a busted pipe
Copyright 2018 The Associated Press. All rights reserved. This material may not be published, broadcast, rewritten or redistributed. We strive to uphold our values for every story published.