A Haskell Indian Nations University English instructor will be named today as a recipient of the $35,000 Whiting Writers' Award, given annually since 1985 to emerging writers considered to have exceptional talent and promise.
James Thomas Stevens, a poet who has taught literature, creative writing and composition classes at Haskell since 1997, is among five fiction writers, two other poets, a nonfiction writer and a playwright who will receive the honor from the Mrs. Giles Whiting Foundation during a ceremony at the Pierpont Morgan Library in New York City.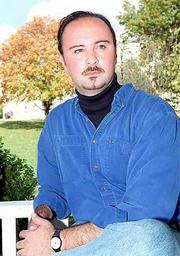 Candidates for the awards are proposed by nominators from across the country and chosen by a selection committee of recognized writers, literary scholars and editors. Nominators and committee members are anonymous.
Recipients can use the award any way that helps further their writing.
"I'd like to take a reduced course load," Stevens said. "We (Haskell instructors) teach four courses now, and there's little time for those who are still publishing."
Stevens is the author of "Tokinish," published by First Intensity Press in 1994, and "Combing the Snakes from His Hair," which will be released early next year by Michigan State University Press.
Stevens was invited to apply for a teaching position at Haskell by Denise Low-Weso after she heard him at a poetry reading.
"His work stood out to me," Low-Weso, acting chair for Haskell's humanities and arts department, said. "His works were intellectually interesting and emotionally moving."
What makes Stevens' writing different is his use of both English and American Indian languages in his works as a means of comparison. For example, in "Tokinish" he quotes in both languages the historical text found in the diary of Roger Williams, an English clergyman who founded Rhode Island.
"I'm quoting it from both sides native and non-native," he said. "I show how one language is not more sophisticated than another and how things change when they're given a new name.
"It's also a love poem, and talks about how when we call a person 'mine,' we deny their original name and history."
Born in Niagara Falls of Welsh and Mohawk parentage, Stevens attended the Institute of American Indian Arts, a two-year college in Santa Fe, N.M., and earned his master's degree from Brown University in Providence, R.I.
He is a recipient of a Witter-Bynner Foundation poetry grant, a fellowship from the Kansas Arts Commission and a City of Santa Fe Writer's Award. His work has appeared in a number of magazines and in an anthology titled "Visit Teepee Town: Native Writings after the Detours." He has been published in Mexico City's "Mandoria" and translated into Chinese for publication in "Tan Tien."
Currently, Stevens is working on what he calls "translations from myself to myself." He is taking traditional Mohawk stories and songs and translating them in a way that are relevant to present-day life. For example, a song about paddling a canoe upstream becomes a poem about going against the current of life.
Copyright 2018 The Lawrence Journal-World. All rights reserved. This material may not be published, broadcast, rewritten or redistributed. We strive to uphold our values for every story published.