Ottawa — Riding Wednesday in the same "Straight Talk Express" tour bus used earlier this year by presidential candidate John McCain, Kansas Republican leaders made Ottawa their first stop on an old-fashioned campaign stumping tour.
"It's an honor to take a few days to come out and motivate people," said State Treasurer Tim Shallenburger, shortly after 8 a.m. when the tour bus pulled up in front of the Franklin County Courthouse.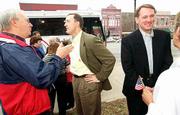 About 30 Franklin County Republicans were on hand to greet the entourage.
State GOP Chairman Mark Parkinson credited Shallenburger and Secretary of State Ron Thornburgh for coming up with the tour idea, billed as the Kansas Victory Tour 2000.
"They came up with the idea to run around the state and meet the people," he said. "We hope to have a little better luck than (McCain) did."
Thornburgh said the tour represents more than just partisan politics.
"It's about our democracy as a whole and about those who have sacrificed before us so that we can stand here for three minutes on the sidewalk," he said.
But partisan politics was uppermost in the minds of the Republicans. In Ottawa and later Garnett, they wanted to show their support for 12th District State Sen. Robert Tyson, R-Parker. Tyson is challenged by Osawatomie Democrat Doug Walker, the man Tyson knocked out of office four years ago.
"In all of the races, there is no greater difference philosophically than in this race," said State Rep. Kent Glasscock, R-Manhattan, who also is the House majority leader.
Tyson, who later boarded the bus to appear with the tour on its second stop in Garnett, said he was pleased to receive the support.
"We do have a philosophy and we do think we're on the right track," Tyson said of his campaign.
Tyson's Franklin County campaign chairman, Tom Weigand, also welcomed the additional support.
"It's always good to see state people support your candidate and get involved in the election," said Weigand, who is also a county commissioner.
Walker, contacted at his Osawatomie home, said he wasn't surprised the state Republicans weighed in on him during the Ottawa stop.
He said Tyson needed a show of GOP support because he had opposition in the primary that appeared to split the party.
"I think it shows how close this race is," Walker said. "He (Tyson) is afraid of losing it. They needed something like this."
The GOP tour will make two other area stops: at Oskaloosa's Jefferson County Courthouse at 3:30 p.m. Friday and at 5 p.m. in Topeka at the Kansas Statehouse, where the tour concludes.
Copyright 2018 The Lawrence Journal-World. All rights reserved. This material may not be published, broadcast, rewritten or redistributed. We strive to uphold our values for every story published.