Dar Williams never gets tired of touring.
"Every tour is different," says the Massachusetts-based singer-songwriter. "This time it's a new band, new tour bus, new album and, actually, some new audiences. It's not surreal to look back. I do some touring in my own car, solo sometimes, so I know how to get books-on-tape out of the library and things like that. But sometimes it gives me vertigo."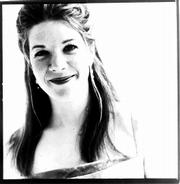 Williams, who earned a bachelor's degree in religion and theater at Wesleyann College in Connecticut, began her career by playing the coffeehouses and colleges of the Massachusetts folk circuit. Her 1993 indie debut, "The Honesty Room," won her heaps of critical praise and a recording contract with the Razor & Tie Records. She toured relentlessly and continued to build her reputation through eclectic and ambitious records, including 1996's "Mortal City" and "End of the Summer," released the following year. Spin magazine called Williams the "most promising" artist on the indie folk scene, and comparisons to Joni Mitchell, Ani DiFranco and Joan Baez were numerous.
Williams' recent effort, "The Green World," contains a dazzling array of styles and sub-genres, set to her literate, lyrical forays into topics personal and profane. Though the album stays true to Williams' aural sensibility, the work also is decidedly less "granola" than her previous efforts, blending in a wider array of instruments and moods. One standout "Green World" song is the quirky neo-feminist anthem, "I Won't Be Your Yoko Ono," which Williams insists is not a response to the Barenaked Ladies' "Be My Yoko Ono," although the sentiments are similar.
"Yoko was really well known in her own right as a conceptual artist and a performance artist," Williams says. "Ultimately, it's a question of how we read history. Do we only read history for the most obvious, for how it affects the pop stars? Do we pretend that Yoko was never an artist because the artist that she married was more famous and therefore eclipsed her, or do we respect the fact that that was a real love story of two artists? So it's kind of a song that says, 'I'll face all the slandering of history-makers who subordinate my art to yours, but I will not do that for you.'"
On the other end of the sonic spectrum is "After All," a painful trip through the "whispering well" of therapy and the rebirth that comes after the death of one's soul.
"It's a revisiting of that time where I learned that getting out of depression didn't mean avoiding pain," Williams explains. "Getting out of depression meant facing different aspects of the truth, which could be painful, but that's more of a relief than static and fear of moving in any direction."
Still Williams emphatically denies that writing or performing is therapy for her.
What: Dar Williams, Catie CurtisWhen: 8 p.m. WednesdayWhere: Liberty Hall, 644 Mass.Ticket prices: $17.50-$21.50Ticket information: 749-1912
"People put (press) clippings in my dressing room," she laughs, "and they say, 'Williams views music as therapy.' And I'm like 'Eeeww.' It just seems so self-indulgent. 'Thanks for having therapy on our time!' So I'd say, no, it's not like therapy. I would say it's actually kind of a reward for having somehow managed to keep my eyes open in the world."
Critical response to "The Green World" from folk circles has been mixed, a phenomenon that doesn't surprise the singer-songwriter.
"People have said that it's more produced than the other ones," Williams says. "I don't agree. I just think it's differently produced."
On the other side of folk
Having cut her teeth on the indie folk circuit, Williams now finds herself in a position similar to Bob Dylan in the mid-1960s: trying to move beyond the folk label while not alienating her core fan base.
"I was the one who called myself a folk artist for a long time," Williams explains. "I really courted that label. I think I've kind of shied away from it these days, because I've been told that I haven't really been making folk albums for the last two albums, if not three. I think I called myself a folk artist so that I could focus the spotlight on alternative new sources, alternative venues and other artists that I really believe in who write songs. So I was surprised when I was asked if I thought it would piss anybody off that I wasn't in the genre. I thought that's ridiculous because you don't enslave yourself to anything, whether it's a marketing plan or a genre.
"The songs that come out of me are really important. You don't want to piss off the muse. You don't want to betray yourself because you're trying to stay true to one audience, whether it's a small folk audience or a large youth-obsessed audience. I don't get a facelift and I don't put out a 'folk' album for the sake of making sure that I don't alienate somebody."
Smashing the glass ceiling
Williams, who gained numerous fans while touring with Lilith Fair, is especially indignant about the so-called "women in music" phenomenon, which has been the focus of recent critical attention.
"I think there was this fake critical gaze on it," she says. "That's OK because, meanwhile, the Lilith Fair shattered one of the glass ceilings of music, which was this rule on contemporary radio that you couldn't play two female artists back-to-back you wouldn't put Me'Shell NdegeOcello next to Paula Cole next to Sarah McLachlan, but you would put Don Henley next to Tom Petty next to John Mellencamp.
"My theory is that women got more money, and so women started to choose more things that were directed at women, and as women were able to have more influence. ... Women started to make it past their first impressions (which) were often very sexualized into very specific categories: the doe in the headlights, the bad-girl debutante, that kind of thing. All of these women kind of plowed past their first albums to really widen their reputations, to widen their scope and their identities. So they were self-identified instead of just male-media identified. I kind of roll my eyes at the way the press goes, 'Wow! Women are here!'"
Copyright 2018 The Lawrence Journal-World. All rights reserved. This material may not be published, broadcast, rewritten or redistributed. We strive to uphold our values for every story published.