LA CROSSE — Locals report mysterious sightings, streaks of bright lights and plumes of smoke zooming through sky.
A central Kansas farmer finds flattened and charred chunks of debris.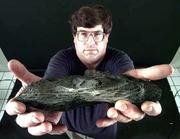 This isn't science fiction.
The National Aeronautics and Space Administration said the show on Friday, Oct. 13, was the fourth stage of a Russian proton rocket launched that day from Kazakstan.
And Doug Wereb, an adjunct faculty member at Butler and Cowley County community colleges, says Rush County farmer Craig Rixon found fragments of the Russian rocket.
Goddard Space Flight Center's Networks and Mission Services confirmed the launch and decay of the satellite late Tuesday.
Wereb, who is a former space science educator at the Kansas Cosmosphere & Space Center in Hutchinson, was called on to identify the space junk.
Rixon said he saw the pieces in the sky, but didn't have any idea where they fell until days later.
"I was out fixing fence and stumbled across it," he said. "It was in a place you couldn't drive with the pickup."
He said the fragments caught his attention because they looked so unusual.
"It didn't look like it should be there," he said. "I thought it might have been part of what flew over. That was the first thing that crossed my mind."
Rixon called Rush County Sheriff Jack Mendenhall, who had seen the sky light up while at a high school football game in La Crosse.
"Everybody in the stadium saw it," Mendenhall said of the phenomenon that lit up the sky. "Pieces of it flared off to the sides like a Roman candle."
Mendenhall thought it was an aircraft dropping flares, but as it passed overhead, he saw a big smoke trail.
"I had no idea what it was," he said. "What convinced me that it was something burning up was the smoke trail. You could see it burning, and it was bright."
After Mendenhall got Rixon's call, he shipped the sample to Wereb, who has identified many meteorites, and astronomy teacher Rob Kuhn, director of the McConnell Air Force Base branch of Butler County Community College.
Wereb said the largest piece recovered was about a foot-and-a-half long and 8 inches wide. A second piece was 10 inches long and about 6 inches wide. Numerous small fragments were scattered on the ground.
Wereb identified the space junk by its appearance and odor.
"It looks like a burnt-up rocket casing, it smells like a burnt-up casing, and it was found where one came down," he said.
But, Wereb said, the pieces found in Rush County are just a small part of the 10- by 14-foot rocket. Most of it burned up in the sky, Wereb said.
---
MORE: www.nasa.gov
www.gsfc.nasa.gov
Copyright 2018 The Associated Press. All rights reserved. This material may not be published, broadcast, rewritten or redistributed. We strive to uphold our values for every story published.