Without a nearly million-dollar repair, the Bowersock Dam's days may be numbered.
It's not likely to be washing away tomorrow, an engineer told Lawrence city commissioners Wednesday. But he added a warning.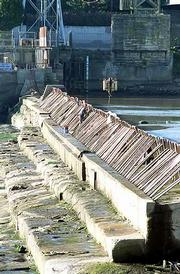 "I can't tell you how many tomorrows are left," said Michael Orth, project manager with Black & Veatch, a Kansas City, Mo., engineering firm.
Without attention, a few heavy flows from now may cause the dam to fail, Orth told commissioners during a morning study session. That could lead to curtailment of the city's water supply.
Black & Veatch was hired by the city to study the condition of the dam and has proposed a $935,000 fix. The dam is owned by the city, which leases its use to Bowersock Mills & Power Co.
But the dam is important to the city for another reason.
The water level created by the dam is crucial to the city's Kaw River Water Treatment Plant, which has an intake upstream. Without the dam, the intake would be left high and dry literally.
"If that dam were to fail, you'd be in pretty dire straits at the Kaw water treatment plant," Orth said.
Orth estimated the cost of a new intake device at between $13 million and $18 million. A new dam, if the city could get a federal permit to build one, would cost from $10 million to $13 million, Orth said.
The last significant Bowersock dam repair was done in 1978, when the Massachusetts Street Bridge was built. Since then, the constant flow of water has eaten away sections of the concrete, steel and rubble that support the dam.
The Flood of 1993 can be blamed for hurrying the erosion process, said Stephen Hill, president of Bowersock Mills & Power Co.
"Like any physical structure, dams have to be maintained, otherwise eventually nature takes its course and they wash away," Hill said.
Hill said he was planning work on the power plant portion of the dam, which also needs refurbishing.
The city is considering pushing forward with a project as early as this winter, in hopes of taking advantage of current low river levels.
Orth said the city could save from $250,000 to $500,000 that otherwise would be spent on diverting the river away from the construction zone.
The project would be paid for by bonds sold by the city's water utility, which is supported by water customers, said City Manager Mike Wildgen.
"It's clearly being done for the benefit of the water treatment plant and the water users," Wildgen said.
Copyright 2018 The Lawrence Journal-World. All rights reserved. This material may not be published, broadcast, rewritten or redistributed. We strive to uphold our values for every story published.