It was probably not a good idea to call a sitcom "Cursed" (7:30 p.m., NBC, TV-PG, TV-PG). It makes life too easy for lazy critics. Originally called "The Steven Weber Show," this comedy vehicle has been re-titled, rewritten, revised and reworked since it was announced in May. It even has a whole new slate of producers. What it did not have as of this writing was a tape of the pilot episode available for review never a good sign.
The word "cursed" may not only apply to this sitcom, but this entire time slot. Once the home to Weber's old show, "Wings," as well as the first season of "Friends," since 1995 this 7:30 spot has gone from the bad "Single Guy" to the awful "Union Square" to the merely mediocre "Jesse."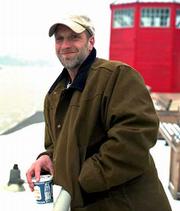 From the looks of the tape made available in May, "Cursed" seems trapped by the limitations of its one-note concept. Weber stars as Jack, an easy-going ad executive who goes on a very bad date with a very chatty woman (Lisa Darr). After telling her that he doesn't see their relationship going anywhere, she retreats to her candle-filled flat and puts an evil spell on him, casting him into a world of woe and wacky situations. The always amusing Chris Elliott stars as his mooching doctor buddy, Larry. Amy Pietz stars as Jack's ex and Wendell Pierce is Wendell, his put-upon colleague at the ad agency. The question remains: Just where can a sitcom go when it's "Cursed"?
You can't keep a good amateur sleuth down. Not even when she's in the hospital to have her vericose veins looked after. Hetty Wainthropp (Patricia Routledge) returns for a new season in "A Minor Operation" on "Mystery!" (8 p.m., PBS, TV-PG). Checked for a routine procedure, Hetty is delayed by a perfectionist doctor, and intrigued by a racket run from within the hospital. Patients' homes are being systematically robbed by burglars who are tipped off by unscrupulous nurses. When Hetty's pal, DCI Adams (John Graham Davies), gets too close to the truth, a pretty young orderly charges him with sexual assault, putting his career in jeopardy. Meanwhile, Hetty's hapless brother-in-law, Frank (Frank Mills), does some amateur detective work on his own at the behest of a pretty widow with a son up to no good. This marks the first of six Wainthropp "Mystery!" installments running every week through Nov. 30.
Other highlights
Scheduled on "48 Hours" (7 p.m., CBS): a grandmother questions the guilt of the man on death row for killing her family.
The Mets and Yankees will meet in game five of the World Series (7 p.m., Fox).
Romano declares all out war on Benton on "ER" (9 p.m., NBC, TV-PG).
World Championship Bull Riding (9 p.m., TNN). Nightly through Sunday.
Copyright 2018 The Lawrence Journal-World. All rights reserved. This material may not be published, broadcast, rewritten or redistributed. We strive to uphold our values for every story published.