Those at high risk for the flu virus may be able to breathe easier knowing that they can be vaccinated as early as today.
The Lawrence-Douglas County Health Department has received a portion of the 7,000 vaccination doses ordered and will begin administering shots to high-risk groups immediately, said Elaine Houston, Health Department registered nurse.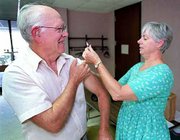 "We want to focus on people that need them most right now," Houston said Wednesday.
People at high risk for the virus include those age 65 and older, adults and children with weak immune systems and chronic illnesses, including asthma, and women more than three months pregnant.
The department also recommends household members of those listed above and health care workers get the vaccine now.
Shots will be available today from 8:30 a.m. to 7 p.m. at the Health Department, 200 Maine, and at Babcock Place, 1700 Mass. from 1:30 p.m. to 3 p.m. Shots also will be administered Friday from 8:30 a.m. to 4:30 p.m. at the Health Department.
People in high-risk groups should get the vaccine as soon as possible to avoid influenza-related complications such as pneumonia and meningitis, said Barbara Schnitker, Health Department director of nurses.
But those at high risk should not panic if they aren't immediately vaccinated because peak times for the influenza outbreaks typically don't occur until December or even January, Schnitker said. The vaccine takes about two weeks after it is administered to be effective.
Houston said she could not determine how many shots will be administered with the present shipment, but she anticipates it will be enough to vaccinate all those in the high-risk groups.
Nationwide, a quarter of the 75 million vaccine doses projected to handle this season's outbreak will not arrive until after Dec. 1 because of manufacturing delays. But Schnitker said she anticipated additional shipments coming in increments to Lawrence eventually would serve everyone seeking a shot before prime flu season hits.
For now, Schnitker said, the healthier population should be patient and cooperative in allowing the high-risk groups to get vaccinated first.
The vaccine costs $8, but no one will be turned away for inability to pay, Health Department officials said. Those enrolled in Medicare Part B will not be charged, but they should bring their card so that the Health Department can submit a claim to Medicare on their behalf.
Copyright 2018 The Lawrence Journal-World. All rights reserved. This material may not be published, broadcast, rewritten or redistributed. We strive to uphold our values for every story published.