Dee Ketchum has the $60 million he needs to build a casino, hotel and convention center near Lawrence Municipal Airport.
Now he's looking for public support.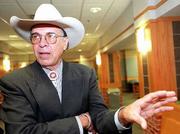 "We're not going to come if the majority of people in Lawrence don't want us to come," said Ketchum, chief of the Delaware Tribe of Indians, based in Bartlesville, Okla.
Ketchum and other tribal members and representatives brought their hopes to Lawrence on Wednesday, when they met with board members from the Lawrence Chamber of Commerce.
Ketchum and his team are hoping the influential business and community leaders will support plans for a project that would provide at least 300 hotel rooms, create up to 1,400 jobs and generate an estimated $80 million a year in revenues.
The proposal already has prompted creation of Stand-up for Douglas County, an opposition group that has collected 1,200 signatures against the plan. One of the group's leaders is John Immel, past chairman of the chamber's board of directors.
Leaders of Lawrence's largest business organization say they hope to make a decision about the project whether to support it, oppose it or offer no opinion by year's end.
"We're going to weigh the benefits of economic development as opposed to some of the obvious drawbacks," said Jerry Samp, the chamber's chairman, citing public concerns about crime, social programs and other issues. "We really want to be fair. We're an inclusive community."
Among the details revealed Wednesday:
The Gillmann Group, of San Diego, would be the project's operator and lone investor. Owner Fred Gillmann already has five Indian gaming operations in California and Nevada.
The project would pump $52 million into the Lawrence economy each year, Gillmann said. That would include a $29 million payroll.
The tribe plans to commission a survey of Douglas County residents, to gauge their opinions about the possibility of a casino, hotel, convention center, conference space and an all-nations tribal museum on 80 acres near the airport.
Gillmann said the project eventually could be expanded to include a golf course and other "destination" features.
"It's still very early, but we have the ability to do it," Gillmann said. "We're prepared to start today, but we have to have some community support."
Shirley Martin-Smith, co-chair of Stand-up for Douglas County, is confident county residents will oppose the tribe's plans. A hotel and convention center would be fine, she said, "but not attached to a casino."
Copyright 2018 The Lawrence Journal-World. All rights reserved. This material may not be published, broadcast, rewritten or redistributed. We strive to uphold our values for every story published.