Senior outside hitter Nancy Bell isn't sure she'll watch the first televised Kansas women's volleyball match of the season against Texas A&M; on Fox Sports Net.
The Aggies stomped Kansas Wednesday night (15-10, 15-13, 15-12) at the Horejsi Center.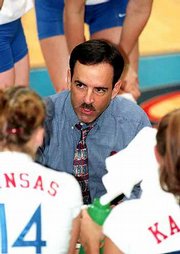 A&M; repeated an earlier sweep of the Jayhawks and improved to 13-5 overall, 9-3 in the Big 12. The Jayhawks dropped to 12-9 overall, 3-9 in the league.
The Aggies tallied 24 total kills to KU's 16 in the first game.
A&M; hitter Erin Gibson had eight kills in the first game, while KU's Sara Kidd countered with five.
KU's Molly LaMere had 16 assists in Game Two as the Jayhawks tried to make a comeback. Yet, the Aggies returned most every spike by Amy Myatt and led 12-4 before a Kansas timeout.
The Jayhawks rallied to tie 13-13, but couldn't get the win after an A&M; block and an emphatic kill by Gibson.
"We verbalize, 'Hey we can do this. We can do this,' but when you're down 2-0 against a very good team, obviously, it takes a little bit of the (winning) mind-set away," Kansas coach Ray Bechard said.
Setter Jennifer Kraft came up with two big digs (she had 13 total) to help KU grab an 8-6 lead. However, the Aggies rallied.
"We can play our best volleyball and not maybe win the match...but we can become a better team," Bechard said. "That's our goal."
Bell believes the Jayhawks need to finish better.
She was frustrated by KU's lack of execution in Game Three.
"More people need to take a role in motivating and being intense," Bell said.
Kansas will travel to Nebraska Saturday to face the No. 1 Cornhuskers who also swept them in an earlier season meeting.
Fox (cable channel 50) will air the Kansas vs. A&M; game at 11 a.m. Friday.
Copyright 2018 The Lawrence Journal-World. All rights reserved. This material may not be published, broadcast, rewritten or redistributed. We strive to uphold our values for every story published.