Lenexa — Highway officials and commuters agree that the main conduit between Lawrence and the southern Kansas City area is plagued with accidents, leading one Kansas resident to liken it to the Bermuda Triangle.
The 15-mile stretch of highway is where the Johnson County Sheriff's Department works the most accidents and makes the most arrests for driving under the influence, said Capt. Larry Jones, of the department.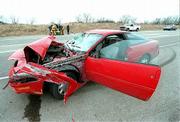 Since the beginning of 1998, nine people have died on Kansas Highway 10 in Johnson County. According to reports, most of the fatalities have involved drivers who lost control after speeding. Some have involved alcohol.
"It's bad," said Lenexa Police Sgt. Rusty James, traffic safety supervisor. "Most of the accidents we're seeing are rollovers, not fender benders."
Officers who patrol that area say there are problems with excessive speeding, aggressive drivers and serious wrecks.
The Kansas Highway Patrol, Johnson County and Douglas County sheriff's department and the Lenexa and Olathe police departments all work along the four-lane divided highway. Officials from each department said more patrols would help curb accidents on K-10, but that hasn't happened.
The patrol can't fill positions because of low wages and it has fewer troopers working in the area than it did 10 years ago, said Capt. Larry Baumchen of the Kansas Highway Patrol.
Although wrecks have increased on K-10, troopers have had to concentrate on federal highways because they have larger traffic volumes.
"I fear for my life when I drive on Highway 10," said Joan Millon, whose business and home are near the highway. "I see a lot of skid marks on the street where there have been wrecks. I see people raging by me, but I don't see police. It's a very uncomfortable feeling."
The high number of accidents can't be attributed to the roadway's design, authorities say, because motorists on K-10 can see miles ahead.
"It's becoming a dead man's curve without the curve," said Olathe Sgt. Greg Scott.
There isn't much along the roadway to distract drivers other than a handful of businesses.
"There's no reason for anyone to have a wreck on this highway," Jones said. "But weird things do happen there."
Jones said the department worked a wreck five years ago in which a woman died. About a year later, her husband died in a wreck near the same spot.
And Jones is worried about the highway's future.
If the proposed Wonderful World of Oz theme park is built at the former Sunflower Army Ammunition Plant, thousands more cars would travel K-10 every day, officials said. Plans call for an additional lane to be built in each direction.
"That will be a nightmare for K-10 if all the traffic projections are correct," Jones said. "The problem is you just can't devote all your time to one highway."
Copyright 2018 The Associated Press. All rights reserved. This material may not be published, broadcast, rewritten or redistributed. We strive to uphold our values for every story published.