Chestnut Charlie may return to being plain old Charlie NovoGradac.
The chestnut orchard NovoGradac has cultivated north of Lawrence during the last five years is the site of a diamond highway interchange being considered by the Kansas Department of Transportation.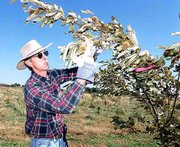 Having labored alone on his patch of soil, NovoGradac now has company.
Union Pacific Railroad is interested in new tracks that would loop just north of Lawrence Municipal Airport rather than through North Lawrence.
The airport itself has landed $3 million in federal money to extend its runway and make other improvements.
And KDOT is exploring wider roads for U.S. Highways 24, 40 and 59.
It's the KDOT plan that has NovoGradac so worried.
The preliminary drawings show a diamond interchange precisely on top of his 20 acres.
"I can't imagine how they could have taken more of my property," he said.
KDOT officials stress that their plans, which would affect about a dozen Douglas County property owners, are only preliminary.
"We're not planning to build anything yet," said Mary Matthews, KDOT spokesman. "We're looking at designs and possibilities for 10 years down the road."
There are no funds available now and there likely won't be for another decade.
But a highway route does need to be charted now to ensure it will mesh with an expanded airport and a relocated train track.
A meeting has been scheduled for 1 p.m. Nov. 6 at the KDOT offices in Topeka to bring together representatives of Lawrence, Douglas County, Union Pacific, the Federal Aviation Administration, the airport, Grant Township and the Kaw Valley Drainage District.
NovoGradac has not been invited.
"I think it's good for everybody if we all work together," said Rick Bryant, chairman of the city's Aviation Advisory Board.
Bryant is not pleased with the preliminary KDOT plan.
The proposal would include a four-lane U.S. 24-40 Highway just north of the existing road that runs along the south end of the airport.
Coupled with the railroad proposal, the airport's goal of lengthening the runway could be hampered. FAA regulations call for a certain amount of clear space at each end.
"We had operated under the misconception that they (KDOT officials) were going to swing the new road south of the existing 24-40 roadbed and put it closer to I-70," Bryant said. "We have a potential to be boxed in on both sides."
One factor in Bryant's favor is the $3 million dedicated by Congress for airport improvements.
"The only people with funding so far apparently is the airport," said Ron Kaufman, public involvement liaison for KDOT.
Bryant said he would like the airport work to be done during the winter and spring so that it would be ready for the anticipated increase in air traffic during the first NASCAR race at Kansas Speedway in Kansas City, Kan.
"We are in a little bit of a time crunch, though it's self-imposed," Bryant said.
But he said he would rather reach some sort of consensus before work begins.
"I think it's good for everybody if we all work together," Bryant said.
Kaufman said the reason to build a new highway north of the existing one is to avoid shutting traffic down during construction.
"There's enough property and business along that road that we think it's important they still have access," Kaufman said.
The old road would be turned over to the county to maintain after the new one is complete, he said.
Roger Pine, who owns farm ground along the route, said he would prefer to see an expanded roadway along the existing route rather than a new one across his property.
"We've spent a lot of time where we are at, too," Pine said.
Kaufman said the highway route as well as the location of the interchange remain negotiable.
That is why NovoGradac hopes to make his voice heard now.
"It will be easier for me to have my opinion taken into consideration in a meaningful way if it is done at the earliest planning," he said.
Until it is decided, NovoGradac remains in limbo.
"I'd like to see how close to reality this project is going to be," he said. "I might know whether I should go plant trees next year or not."
Copyright 2018 The Lawrence Journal-World. All rights reserved. This material may not be published, broadcast, rewritten or redistributed. We strive to uphold our values for every story published.