Lucy McAllister was touched by the memorial tribute to her mother, Mariana Remple, a longtime Girl Scout leader honored Sunday at Hidden Valley Camp.
"It was the kind of thing I had hoped would happen," McAllister said. "The younger people here would hear the older ones talk about (Remple). She was always very reticent about attention for herself."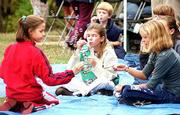 In 1957, Remple, who died Sept. 19 at age 87, organized Mariner Senior Girl Scout Ship 201, which became Senior Girl Scout Troop 660. A former teacher, she served as the leader of that troop until last year and as assistant leader until her death.
More than 150 people gathered under tents to listen to remembrances and share their stories of Remple's dedication to the young women of Lawrence. Younger children blew bubbles while junior, cadet and senior scouts sat listening in the audience.
"She had a real gift for finding that historical trail (of knowledge) and making it real for the girls of the troop," Ellyn Owen said. "She was a dedicated person and all her efforts were aimed at the girls. She wanted them to know the possibilities were endless and failure was impossible."
Parents, friends, former scouts and adult leaders all shared their admiration for her.
"I first met Mariana 18 (years) ago. She had some really wonderful things she taught me about how to be a woman and how to deal with young people," Ralena McCurdy said.
McAllister said it was meaningful to listen to people's sentiments at the memorial.
"It's really nice to hear all these grown women reflect on what her example meant to them," she said.
Older girls in the troop performed a tribute to Remple, humorously portraying her adherence to Robert's Rules of Order in conducting troop business.
Remple's husband, Henry D. Remple, also spoke to the friends and family. A longtime supporter of the scouts and their wilderness canoe trips, he thanked those gathered for their friendship and support.
"It was just five weeks ago that Mariana was at this campsite," he said. "On the way home from here she had a massive stroke and died a few days later. Mariana had a great love for this campsite, for nature and the animals here. She had a great love of the girls, so I'm delighted to see the scouts here."
Copyright 2018 The Lawrence Journal-World. All rights reserved. This material may not be published, broadcast, rewritten or redistributed. We strive to uphold our values for every story published.