Not all bulbs are hardy through Kansas winters. These so-called tender bulbs (or corms and rhizomes) must be dug up and stored away, safe from the freezing temperatures of winter, in order for them to flower next year. Caladiums, gladioli, canna lilies, calla lilies, dahlias, begonias and hyacinths are among the bulbs or roots that need protection.
Late fall, either before or right after the first frost, is the best time to dig them up.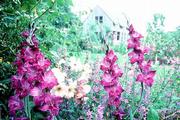 Caladium should be harvested before the first frost while the soil is still warm. After they have been removed from the ground, let them dry for about a week in a warm dry place. Remove dead foliage and store in a place with temperatures between 60 F and 80 F. Surround them with vermiculite, sawdust or perlite.
Gladioli should be dug up with a spading fork about two months after the last bloom has faded and the foliage has turned yellow. (Gladioli that were planted late and are still green with the first frost can be left in the ground for a while.) Remove excess soil from the corms and trim back the foliage to within a few inches. Place them in direct sunlight, or at temperatures between 75 F and 80 F, for about two weeks before storing them.
Gladioli should be stored in a place with cool temperatures, between 35 F and 45 F. They need ventilation during storage, so place them one layer deep on vented flats, in mesh bags or shallow boxes covered with sand.
The over-wintering care of canna lilies is similar to gladioli. Dig them before the first frost and trim back the leaves, leaving 12-14 inches of foliage on the rhizome. It is not necessary to remove excess soil or to divide them prior to storage. Allow them to dry and store them in cool temperatures during the winter.
The rhizomes of calla lilies are harvested after the first frost. They should be allowed to dry in a shady place for a few days before being placed in a box filled with sawdust or other material that will stay dry. Calla lily rhizomes will rot if allowed to sit in moisture.
Dahlias should be cut back to about 6 inches after the foliage has been nipped by the first frost of fall. Remove the tubers from the ground, hose off excess soil and clip broken roots. Dry them for about a week in a shady place, then store them in a cool place (35 F to 45 F). Check them periodically during storage. Tubers that show evidence of new growth are receiving too much heat or light.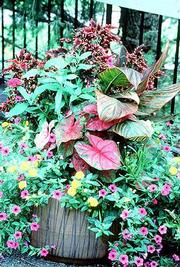 Tuberous begonias should be dug up about the same time as the first frost. Allow all the foliage to dry with the tubers. Discard any stems and foliage that separate easily from the tuber. The dried tubers and attached foliage are stored in a paper sack in a cool dry place.
Although hyacinths are hardy in zone 5 winters and are classified as perennials, they are considered to be short-lived bulbs. Unless well protected during the winter and nourished, they tend to loose their vigor and may stop producing flowers in about three years.
To prolong the life of hyacinth bulbs, dig them up each fall and store them in a cool dry place. For gardeners who prefer to leave hyacinth bulbs in the ground, a covering of mulch will help protect them during the fluctuating temperatures of winter.
General care
All bulbs that are dug up and stored for the winter should be inspected for disease. Remove and discard any part that is filled with holes, is mushy, woody, shriveled, broken or has evidence of disease or insect damage. Some of the bulbs, tubers and rhizomes that are dug up for winter protection may benefit from a dusting of a fungicide.
Consult local nurseries for more complete guidelines. As always, use caution and follow instructions carefully when using these products.
Bulbs that require cool storage can be placed in an insulated garage or cabinet in an unheated garage, provided the temperatures do not get below freezing. Those that require warmer temperatures can be stored in a cool basement, away from the furnace.
These tender bulbs should sleep nicely until planting time next spring.
Copyright 2018 The Lawrence Journal-World. All rights reserved. This material may not be published, broadcast, rewritten or redistributed. We strive to uphold our values for every story published.