Former Secretary of State Jack Brier has another assignment from the governor's office, this time to the Kansas Turnpike Authority's board of directors.
The appointment comes months after Gov. Bill Graves gave Brier a $100,000-a-year state job, and the day before the rededication of the state's official governor's residence, Cedar Crest the renovation of which was made possible by a Brier-led fund-raising effort.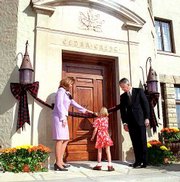 Brier was Kansas secretary of state from 1978 to 1986. He then ran for governor, losing to Mike Hayden in a crowded GOP primary. Graves succeeded Brier as secretary of state in 1986.
In July, Graves appointed Brier to head the Kansas Development Finance Authority, the state's clearinghouse for issuing public- and private-sector bonds.
Brier was hired to fill that job at $101,000 a year. His predecessor, Ken Frahm, had a salary of $77,624 during his final year on the job.
There is no salary for KTA board members. Brier replaces Lawrence resident Frank Becker on the board. Becker's term expired April 30, but he said Thursday he left the board after Graves indicated he wanted a new person in the position.
"It's the changing of the guard," Becker said.
Don Brown, the governor's spokesman, said Brier also chaired "Friends of Cedar Crest," which raised $2.2 million in donations toward the mansion's renovation. A public reception was held Friday to show off the remodeling.
Copyright 2018 The Lawrence Journal-World. All rights reserved. This material may not be published, broadcast, rewritten or redistributed. We strive to uphold our values for every story published.