A professor with a history of challenging Kansas University administrators on campus and in court had another showdown with school officials Thursday.
The confrontation came minutes before Professor Ray Pierotti's 11 a.m. Principles of Ecology class when an associate dean and an associate department chairman walked in to see who would be teaching the class.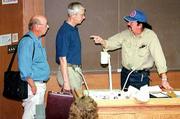 Pierotti's wife, former professor Cynthia Annett, had been teaching the course while her husband underwent and recovered from eye surgery.
Annett and Pierotti both said she taught the same course in the same classroom before leaving the university in 1999 after she was denied tenure in 1998.
Annett's denial of tenure was part of a lawsuit the couple brought against the university. In March, a federal jury rejected Annett's claims of sexual discrimination as the basis of her denial of tenure. The jury also rejected claims by her husband that he was a victim of retaliation for speaking out against changes in the graduate program in biology.
"During the three weeks I was out last year for the trial, I had different people come in and teach my classes," Pierotti said. "Nobody said a thing. Not a word."
Officials didn't say much Thursday, either.
Confrontation
Minutes before the class in Haworth Hall began Robert Weaver, associate dean of sciences for the College of Liberal Arts and Sciences, and E.O. Wiley, associate chair of the Department of Ecology and Evolutionary Biology, approached Pierotti.
"Is he here to lecture?" said Pierotti, who was wearing a black patch over his right eye following recent surgery.
"I'm not here to lecture," Wiley said.
"If we might get a copy of your syllabus ..." Weaver said.
"Why?" Pierotti asked.
"You're supposed to be out on emergency medical leave," Weaver said.
"I keep things covered," Pierotti said. "If a student comes and complains then you can do something."
"We're concerned about your health," Weaver said.
"No, you're not. No, you're not," Pierotti said. "You're concerned about making issues of things."
Weaver and Wiley then left the lecture hall.
Pierotti had expected the officials to appear. He said Weaver called him Thursday morning and said he must have permission from the department for Annett to teach the class, if Pierotti was not there.
Pierotti said he had planned to be absent but came to class Thursday to ensure Annett could give the lecture. She already had covered four earlier sessions for him. He was present at three of them.
"It's not fair for students in a large class like this to have different people coming in all the time," Annett said.
University reaction
Weaver declined comment on the matter. Wiley could not be reached for comment after the classroom encounter.
"Because this is a personnel matter, we're bound by policy. We cannot comment," said Todd Cohen, associate director of university relations.
Cohen did point to a policy in the faculty handbook which states a faculty member, unable to meet class, must submit plans for substitution to the departmental chair, who must approve those plans.
Pierotti said he did not do that. But he didn't do it when others covered for his absences during the trial. Officials didn't invoke the rule then, he said.
"All I've ever been told is 'make sure your classes are covered,'" Pierotti said. "That's what I've always done."
Pierotti said officials Thursday aimed to violate his academic freedom to invite guest lecturers.
"Telling me having Cynthia teach my class is wrong ... Dr. Wiley is not even in my field," Pierotti said.
Health matters
Pierotti underwent surgery for a detached retina on Oct. 6. After an examination Monday, his doctor found a new tear in the retina and told him to have surgery Tuesday.
Thursday, Pierotti conducted class for 15 minutes before asking Annett to take over. He told the class he was feeling "woozy."
He left the room twice to speak to reporters in the hallway and then sat at the front of the room while Annett lectured.
Visibly sweating and lifting the black eye patch to show his blood-red eyeball which was surrounded by red and swollen skin, Pierotti said, "I didn't go through this to embarrass the university. I'd rather my eye was healthy."
Friends of Pierotti had alerted reporters there might be a confrontation.
Students said they didn't understand the confrontation or complaints about Annett.
"She's just as qualified to teach us as he is," said Sara Wunder, a junior in biology.
Copyright 2018 The Lawrence Journal-World. All rights reserved. This material may not be published, broadcast, rewritten or redistributed. We strive to uphold our values for every story published.