A beloved area jazz enthusiast is being memorialized with a musical tribute that will feature the style he loved.
Dick Wright died of cancer last year, and almost immediately, friends and family started working toward a concert that would acknowledge Wright's accomplishments, while also helping student musicians.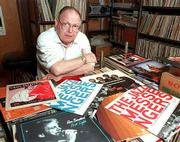 The "Dick Wright Memorial Jazz Concert" kicks off at 1 p.m. Sunday in the Topeka Performing Arts Center. The four-hour event will showcase some of the area's top singers and players.
"The bottom line is to establish a musical scholarship fund in Dick's name," says Jim Monroe, concert organizer. "But the meaning of the day is the important thing for all of us involved."
That deeper significance revolves around honoring a friend and colleague whose love of all things jazz-related was well-known.
Wright was a Kansas University professor emeritus of music and dance and one of the nation's foremost jazz experts. Along with teaching he also chaired committees that bestowed grants to struggling musicians, in addition to serving as an emcee and guest speaker at concerts and festivals.
"He was a guy who could not say no. He wore out a lot of cars driving around doing this," Monroe says. "His love of jazz was so strong that he had to let people hear what he loved."
He was a guy who could not say no. He wore out a lot of cars driving around doing this. His love of jazz was so strong that he had to let people hear what he loved." Jim Monroe, concert organizer
Wright's primary way of doing this was through his own radio show. "The Jazz Scene," aired on KANU FM 91.5 every Saturday morning for 40 years, with Wright only absent occasionally to attend a festival or lecture on his rare collection of jazz films. He gave all of his radio time to the station as a volunteer and developed a loyal fan base.
"He had a huge audience in northeast Kansas," Monroe says.
That loyalty is still displayed through the tribute efforts of volunteers and musicians. TPAC is providing its hall, sound system and promotional material free of charge, while all the players are donating their skills for the day.
"This is virtually a zero expense event with all the money going to the fund," Monroe says.
The group's goal for the fund is to raise $10,000 for scholarships.
Featured performers include Gary Foster, Bob Kindred, Paul Haar, Karrin Allyson, Eldar Djangirov Trio, Julie Rivers, Mike Metheny, The Dick Wright Memorial Sax Quartet, Bob Bowman, Todd Strait, Danny Embrey and Tommy Ruskin.
Wright knew most of the musicians through school and jazz-related events. He was a stalwart supporter of many of them. He promoted the work of area pianist Julie Rivers on his show, while Gary Foster was a classmate and co-worker who even composed "Saturday 10 a.m.," Wright's theme music for his program.
"They used to hide in the halls to practice jazz because it was illegal for them to do it on campus then," Monroe says.
Wright's wife and 31 family members will be on hand for the concert.
"In some ways it will be a tough day for us," Monroe says, "but we're going to try and keep it light and enjoy some great music."
Copyright 2018 The Lawrence Journal-World. All rights reserved. This material may not be published, broadcast, rewritten or redistributed. We strive to uphold our values for every story published.