Performers inevitably discover that fame has different drawbacks. With some it is the lack of privacy, and others it is the strain the lifestyle puts on relationships. For comedian Steven Wright there is one cardinal disadvantage.
"The traveling," he says. "The moving around so much has eroded part of my mind. It's to where all I do now is doodle and draw rifles.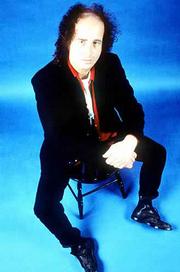 "The cumulative effect of it for 18 years has really gotten to me, especially in the last two years," Wright says from his hotel room in Las Vegas, where he is once again on tour. "I used to have goals you know, do this project and that, play in this country and that. My goal now is to NOT go to the airport. I would love to be in a house in the same bed for one year. Why do I not just stop for a year? Because I love doing it still."
If I ever had twins, I'd use one for parts.
It's been nearly two decades since Wright first became synonymous with the existential one-liner. The Burlington, Mass., native and Emerson College graduate caught his big break, like many stand-ups, after his 1982 appearance on "The Tonight Show." His 1986 album, "I Have a Pony," reaped a Grammy nomination and helped further his instantly recognizable technique. One of the few contemporary, cutting-edge comics who essentially stands on a stage telling unconnected jokes, Wright has drawn comparisons over the years to other entertainers, none of which fully capture his true persona.
"I've heard 'Henny Youngman on acid,'" Wright says in his deliberate, baritone manner of speaking. "Everything I've ever heard, I can see their point. So I don't disagree. I never was compared to someone where I went, 'What? No way.'"
One comparison that seems more apropos is Buster Keaton. For like the great Stoneface, Wright's on-stage imperviousness to laughter makes his delivery that much funnier.
"I don't think there are any rules, like that's more funny or less," he says of his expressionless demeanor. "In some instances it works with that comedian. It wouldn't be like if (David) Letterman all the sudden weren't going to laugh, he'd be funnier. It's just that Buster Keaton probably wasn't completely different in person. If the thing is natural, whatever it is, whatever way you are, if there's realness to it, the audience tends to respond to that."
During the years, Wright has been described in nearly every feature article as deadpan, laconic or monotone all of which are undeniably accurate. Is there a written phrase that has never been used to portray him?
"'He's a people person,'" Wright responds. "I've never heard that from any of my friends, either."
One wouldn't choose "sarcastic" as a rarely used phrase.
"I'm really just serious," he says. "I'm a serious guy who's kidding around. I'm extra serious, which is why I notice so many things."
I went into a restaurant. The menu said "breakfast anytime." So I ordered French toast during the Renaissance.
"I'm really thinking of the world. I don't really think about me," Wright confesses as to what triggers his musings. "I just think what I think is funny, then I ask them (the audience) what they think by saying it on-stage. Then I just keep the ones they like. They're like editors. They're voting with their laugh or non-laugh."
Wright ponders for a minute when trying to summon his funniest joke that audiences didn't get.
"There's not enough time in the day, that's why we have night," he responds.
When confronted with the silence on the other end of the phone, he says, "You not laughing hey, have 2,000 people not laugh.
"I think it IS funny, even if they didn't laugh," he says of the gag. "It's just that they didn't agree. But they're in charge."
Wright reveals that in order to endure the potential rejection by audiences, he must psyche himself up for every live show through a curious ritual.
"I look at pictures of waffles I have from all over the world," he says. "It's a regular three-ring notebook-sized thing, and it has about 400 pictures of waffles."
So how are the waffles in Las Vegas?
"They use the Belgian-type pattern on Vegas waffles," he says laughing. "The pattern developed after World War II. It looks like an aerial photograph of Austria."
In my room there's this light switch that doesn't do anything. Every so often I flick it on and off just to check. Yesterday, I got a call from a woman in Germany. She said, "Cut it out."
While Wright has been a constant on the stand-up circuit and on television (including his frequent HBO specials and an appearance as himself on "The Simpsons"), it's been a longer gap since his other creative outlet first emerged. After a 12-year hiatus, Wright returned to filmmaking this year with "One Soldier." The 30-minute short is set just after the Civil War and follows a man (Wright) who is obsessed with life's big questions.
"One Soldier" was a long-awaited follow-up to Wright's "The Appointments of Dennis Jennings," which won him the 1988 Oscar for Best Live Action Short. The prestige of the award was not lost on Wright. In part it was the expectations resulting from such an honor that caused such a long interim between his film projects.
"You only see that thing on that TV show," Wright says of his Oscar statuette, still seeming mystified that he possesses one. "You don't really see an actual Academy Award in real life. It's like, you know that car they drove on the moon? It would be like if you're walking down the street and that was just parked in between two other cars."
"When I die, I'm leaving my body to science fiction."
A quick glance at the Internet reveals the dense aggregate of Web sites devoted to the 44-year-old. Many of the sites claim to reveal the "deadpan humor of Steven Wright," but few actually contain it. Wright estimates that more than half the material on the Web attributed to him is simply not his own. The comedian asserts he'd be interested in doing a show comprised of all the jokes people thought he wrote ("What would that show be called? 'You THINK this is Steven Wright'"). But Wright says he's equally frustrated and amused as to why so many gags are credited to him.
"I don't know what gives it away for other people," he explains, "For me, some of the jokes are good; some of them I'd wished I'd written; but most of them I'm embarrassed that people thought I wrote. There are subjects I would never talk about. There's just wording and logic to it that I would never do."
There is a certain Wright way of viewing things that can't be wholly duplicated by others. That's probably because it's so hard to get a fix on Wright himself. Like his stage persona, his mind seems to think in brief, witty blocks. But unlike his stage persona, he is constantly punctuating his sentences with long stretches of laughter big belly laughter. Part of the comedian's signature appeal is that in his hands, any subject seems appropriate. But has Wright ever come across a topic that he's been unable to compose a joke about?
"The equator," he offers. "No, I did write about the equator. 'I went to a Halloween party dressed as the equator. When people walked towards me, they got warmer.'"
Copyright 2018 The Lawrence Journal-World. All rights reserved. This material may not be published, broadcast, rewritten or redistributed. We strive to uphold our values for every story published.