Norfolk, Va. — The sky hung low and damp over Pier 12 at Norfolk Naval Station, nothing but gray, except for a bugle, playing taps, and a set of fresh wreaths against the harbor.
Wednesday, the country said goodbye to the 17 sailors whose lives were lost in a terrorist attack against the USS Cole last week in the faraway port in Yemen. A mournful gaze was cast by some 5,000. They crowded onto the cement pier, with sailors standing three deep along the tall rails of the aircraft carrier USS Eisenhower and two of the Cole's sister ships, the destroyers USS Ross and the USS McFaul.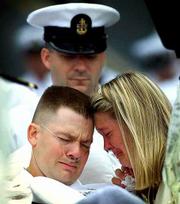 There were members of Congress, senators, decorated admirals, a first lady. But all eyes were on the procession of buses and ambulances that rolled slowly to the platform just before the 11 a.m. service. Thirty-six injured sailors hobbled on canes and crutches, others wheeled in on gurneys, some with bandaged faces and bloodied eyes, all so young and solemn as they were escorted to their waiting families in the audience.
The center section of folding chairs, protected by ropes, remained empty. Finally, the families of the dead and missing sailors unloaded from two buses. Walking to their places, they leaning on each other, wearing black, clutching photographs taken from scrapbooks and baby books.
How they wished they were sitting in the section for the injured.
Returning from the Middle East peace negotiations in Egypt to attend Wednesday's memorial service, President Clinton promised action against those who bombed the Cole while it was on a refueling stop as it steamed toward the Persian Gulf.
"To those who attacked them we say, 'You will not find a safe harbor. We will find you and justice will prevail."'
Others vowed similar retribution in their remarks. "Those who perpetrated this act should remember that America's memory is long, and our reach longer," said General Henry Shelton, chairman of the Joint Chiefs of Staff.
Richard Danzig, secretary of the Navy, reminded the mourners of the valor of the 240 sailors left behind on the Cole. "For two days and two nights," Danzig said, "they fought under the most extreme conditions blood, bent and broken steel, flooding, uncertainty and danger. They saved their ship, their injured everyone of them and each other."
But the hour-long ceremony celebrated the lives of the young sailors who would never come home. Clinton read each of the 17 names, and quoted an Archibald McLeish poem that honors those lost in service to their country.
"The young no longer speak, but they have a silence that speaks for them at night," Clinton said. "They say, we were young; remember us. They say, we have done what we could, but until it is finished, it is not done. They say, our deaths are not ours, they are yours; they will mean what you make them. They say, we leave you our deaths; give them their meaning."
Before the service, in an historic house on the naval base, Clinton met privately for 90 minutes with all of the families of the 17 sailors, as well 36 of the injured. Those with loved ones still classified as missing told the president they were anxious for a final word, and asked Clinton to help them any way he could.
"He cried with us and talked with us," said Robert Francis of Woodleaf, N.C.,whose daughter, Lakeina Francis, a mess management specialist, is classified as missing. "I've always been proud to be an American. It solidified my feelings. He knew my daughter's name."
At the service, the Francis family sat in the second row, blue and yellow ribbons representing the Cole colors pinned to their mourning clothes. Their daughter had only been aboard the Cole for two weeks when it was attacked, yet many of the injured sailors approached them with stories about Lakeina. "Everybody loved my daughter," Francis said.
Under the gravest of settings, many families met the shipmates of their sons and daughters. At every turn they saw the likeness of their own child. On Wednesday they learned that the remains of eight missing sailors were expected to arrive at Dover Air Force Base, bringing to 13 the number of bodies returned to the US. Four still have not been recovered.
Virginia Brown was sitting with other Cole family members when her cellular phone rang. It was her husband, Petty Officer First Class Jeffrey Brown, calling from aboard the Cole in Yemen. He asked his wife to hold up the phone so he could listen to the service. After 20 minutes, she heard her husband crying.
Brown, of Norfolk, said she didn't feel entitled to cry. "It could have been me, sitting in the front row, grieving over his life," she said.
Augustine Wiggins, the sister of Seaman James R. McDaniels of Norfolk, wondered whether her brother's death could have been prevented. "It's not that Clinton or anybody else can do anything about it now," said Wiggins. "What I don't understand is if they had warnings, why they went into that port."
Some families came to Wednesday's service still believing their prayers would be answered. Against rational hope. Against the somber clasped hands of the Navy chaplains. The family of Timothy L. Guana came from their home in Texas still believing their son would be found alive.
But at the end of the service, Guana's mother broke down, wailing uncontrollably. "He's gone, he's gone," she sobbed.
"It's a tough day," said Aaron Wibberley, 26, the cousin of one of the sailors killed, Seaman Apprentice Craig B. Wibberley of Williamsport, Md. "It's a terrible thing. They were trying to protect the peace."
Others found comfort in Clinton's word. "It let me know that my husband is not over there for nothing," said Dorothy Walker, another wife of a Cole sailor.
Copyright 2018 The Lawrence Journal-World. All rights reserved. This material may not be published, broadcast, rewritten or redistributed. We strive to uphold our values for every story published.