An artist never knows where his or her inspiration will come from. For Lawrence artist Bob Proctor, it was putting an old painting in his backyard.
"I had an old painting I'd done (in college) in the basement," Proctor says, adding that the technical quality of the work wasn't very good. "I wanted the barnwood frame so I threw it outside."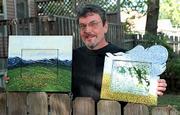 Actually, he hung it on a fence, behind a rock garden. A couple of years later, a friend saw the framed painting.
"She wanted one for her patio," he says.
So the idea of creating paintings on barnwood that could be treated to withstand the Kansas wind and weather consumed his attention. He took that a step further when he decided to extend the painting from the traditional canvas area onto the work's frame.
Not only did he begin to paint outside the borders, but he also started using a Dremel tool to continue the lines of the painting onto the frame. The scoring, he discovered, gave the painting on the frame a three-dimensional quality.
Landscapes and geometric designs are Proctor's favorite subjects.
"Most of (the landscapes) are taken from a Marlboro calendar," he says. "Some are post-Impressionistic."
Most of (the landscapes) are taken from a Marlboro calendar. Some are post-Impressionistic." Lawrence artist Bob Proctor
One of his paintings, "Sorry, Vincent," uses the roiling blue-and-white clouds and fields of flowers found in Vincent van Gogh's works. Another is a frame of black-and-white geometric designs surrounding a glass mirror that is etched with the same geometric motif.
Proctor, who studied graphic design at Johnson County Community College and says his artistic influences are Thomas Hart Benton and Georgia O'Keeffe, also creates elaborately detailed pencil drawings and is a free-lance graphic artist. He has done work for the Kansas Corporation Commission and worked on an addendum to the city's Horizon 2000 plan.
While his paintings are typically landscapes, his pencil drawings are portraits of American Indians, military figures of the Old West and birds of prey. The images are inspired by the dozens of books on American history in his home.
"It takes 30 to 40 hours for each drawing," he says.
Oddly enough, Proctor has never displayed his works outside of his circle of family and friends.
"I never showed anything before because I never thought I had anything to show," he says.
But Proctor hopes to change that soon. He is looking to exhibit his works at local art festivals and shows.
Copyright 2017 The Lawrence Journal-World. All rights reserved. This material may not be published, broadcast, rewritten or redistributed. We strive to uphold our values for every story published.