Sara Kidd's first career start ended with Kansas University blanking Oklahoma, 15-8, 15-11, 15-5, Wednesday night at the Horejsi Athletic Center.
More than 1,000 fans watched the Jayhawks snap a five-match losing streak while improving to 12-7 overall and 3-7 in the Big 12. Oklahoma fell to 6-12, 1-9.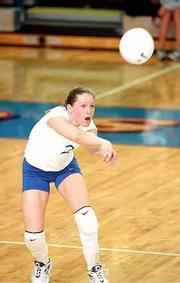 Seven errors proved costly in Oklahoma's Game One defeat. The Sooners' attack percentage was a mere .094 compared to Kansas' .357 percent.
Kansas and Oklahoma were neck-and-neck in the second game until an OU service error prompted a lead change and run for Kansas, which pushed the lead to 7-2.
Kansas coach Ray Bechard said the Jayhawks had their problems during the match, but he was happy with his team breaking up key Oklahoma plays.
The Jayhawks capitalized on each possession in Game Three. Geronymo lead KU to the win with 15 overall kills, five in Game Three.
Bechard noted outstanding play by LaMere, who had 40 total set assists, Nancy Bell and Kidd. A right ankle sprain limited Kidd's action earlier this season. Wednesday, however, Bechard inserted her in the lineup to fill a back position.
"Kidd played fine," Bechard said. "She's getting healthy again and we just want to give her a chance to play."
Kidd, who had five kills, one ace and 14 defensive digs, was just happy the team won instead of focusing on starting. She said her teammates played "awesome."
Bechard still is deciding whether Kidd will start in the Saturday's game at No. 6-ranked Colorado.
Snapping the losing streak definitely will help the Jayhawks' state of mind.
"When you go a couple of weeks with the feeling (of losing), you begin to doubt yourself." Bechard said. "Tonight, we lost that feeling."
Copyright 2018 The Lawrence Journal-World. All rights reserved. This material may not be published, broadcast, rewritten or redistributed. We strive to uphold our values for every story published.