A West Junior High School math teacher was presented an outstanding educator award Wednesday during a surprise after-school ceremony.
Kathy Wagner, a member of West's faculty for 18 years, received the Legacy Award from Educom Credit Union and the Lawrence Education Assn., the union representing teachers in the Lawrence public school district.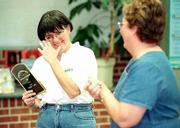 "I appreciate this," Wagner said while wiping away tears.
Her colleagues responded with a standing ovation in the school's library. Interim Supt. Randy Weseman said he observed Wagner's dedication to students as an assistant principal at West.
"She taught my children," Weseman said of Wagner. "She's a consummate teacher."
Wagner was the second recipient of a Legacy Award but the first to receive the award at a surprise meeting in school.
Ginger Wehner, manager of Educom, 3400 W. Sixth, said the credit union and LEA presented the first Legacy Award during the district's opening convocation ceremony at the Lied Center on Kansas University's campus.
The first recipient Mary Grant is a second-grade teacher at Pinckney School and has been with the district since 1984.
This award will be given approximately once a month to an educator who puts heart and soul into teaching students.
"She is creative, and finds creative ways to meet the needs of all of her students," Wayne Kruse, president of LEA and a teacher at Quail Run School, said. "She works to make sure that all of her students are reaching their full potential."
Copyright 2018 The Lawrence Journal-World. All rights reserved. This material may not be published, broadcast, rewritten or redistributed. We strive to uphold our values for every story published.