"This place definitely isn't hectic," says Galactic bassist Robert Mercurio, phoning from his New Orleans home. With a just-released album, tour dates lined up through next year and an increasing reputation as a band to watch, hectic is exactly what Galactic may be in for.
The members of Galactic (Mercurio, drummer Stanton Moore, guitarist Jeff Raines, keyboardist Rich Vogel, saxophonist Ben Ellman and vocalist Theryl de Clouet) formed while still students at Tulane University. After years of cutting its teeth on local gigs, Galactic debuted in 1996 with "Coolin' Off," an independent release. All those early hometown shows paid off handsomely, says Mercurio.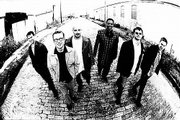 "You gotta build up your hometown first," he explains. "That's one thing I try to tell a lot of these bands that are starting out now. They're going out of town immediately, but you have to build and grow. Once we had a good stronghold here, we toured all of America equally. We didn't just go to Baton Rouge. We played Vancouver before we played Baton Rouge."
Caught in a jam
Galactic's early national tours included stints with Ben Harper, Widespread Panic and Medeski, Martin and Wood as well as the H.O.R.D.E. tour. Perhaps as a result, Galactic got tagged with the "jam band" label early on.
"At first it was something we really weren't happy with," Mercurio says. "We consider ourselves a New Orleans funk band. We really didn't see ourselves as a jam band. Every band in New Orleans is a jam band. It's all about that. But I think the term is getting better defined. At first, to me, it meant 'hippie band,' but nowadays it seems that there's a wider range as to what the term means. So, we're willing to accept it a little more. I think it's really a touring ethic and trying to bring a different show to the people. But it's funny because that's something that's really born into every New Orleans band, and it just happens to be something that all the hippies like."
"Sometimes on-stage we'll have a thing called 'spontaneous composition.' Just pick a tempo and a key and see where it goes."Robert Mercurio
---
Galactic eventually signed to Capricorn Records and released its second effort, "Crazyhorse Mongoose," and continued to hone its live act and build its audience. For a band like Galactic, touring literally puts food on the table.
"We don't really sell that many records," Mercurio says. "The only way we make our living is through touring. It's just the total opposite for bands like Counting Crows and Live. Touring is just something they have to do after they put out a record. They make most of their money off the record."
Crows feat
Mercurio should know. His band was hand-selected to open last summer's Counting Crows/Live double bill, an opportunity to play in front of thousands of potential fans every night.
"Adam Duritz (Counting Crows' vocalist) had been coming down to Jazz Fest for the last six years," Mercurio says. "We just became really good friends over the last four years. He started coming to see the band, and he would let us stay at his house when we were in L.A.
"It's funny, because we had never seen Counting Crows, and he had probably seen our band about 50 times. So he called one day and said that they were trying to figure out an opening band for the tour with Live. We didn't really have anything too much planned, and we thought it would be a good way to get in front of a bunch of new fans and we did. No one knew us in the crowd, but even if we got 100 or 200 or 300 people out of the 20,000 it was still worth it in our eyes. There were plusses and minuses, but it was kind of fun to do in a way."
Songwriting time
Galactic also managed to squeeze in a new album, "Late for the Future," which takes the band's funky, Cajun-inflected sound to dizzying new heights. For Mercurio and company, writing new songs is an organic process, on-stage or off.
"About twice a year we sit around for two weeks and have 'songwriting time.' Sometimes it'll be really prolific and sometimes not. It's really hard to force something like that. It's weird, though, because sometimes we'll write two or three tunes in a week and then sometimes we won't write anything for two months. It totally just comes out when it comes out. Sometimes on-stage we'll have a thing called 'spontaneous composition.' Just pick a tempo and a key and see where it goes. That's usually something we only do for smaller gigs. It seems like small clubs leave you more room to do stuff like that."
Copyright 2018 The Lawrence Journal-World. All rights reserved. This material may not be published, broadcast, rewritten or redistributed. We strive to uphold our values for every story published.