Grounded on a premise that's almost too simple, "Pay It Forward" seems to succeed in spite of itself. Working from Catherine Ryan Hyde's novel, screenwriter Leslie Dixon and director Mimi Leder ("Deep Impact") exceed their quota of implausibilities, clichand extraneous details. In many ways, the movie looks a lot like something Frank Capra would have made ("Mr. Smith Goes to Washington," "Meet John Doe"). Capra's films had their share of corn, but Leder, like her predecessor, pleads for decency and sentiment in a manner that is credible enough to be engaging.
Like "Meet John Doe," "Pay It Forward" follows a popular movement. Jay Mohr ("Go") plays Chris Chandler, a cynical reporter (is there any other kind in movies?) whose luck descends from awful to abysmal. While attempting to cover a hostage situation, his jalopy is nearly totaled when the kidnapper plows into it during an escape. Unexpectedly, the journalist meets a stranger who hands him the keys to a Porsche. Understandably incredulous, Chris initially refuses. After he accepts the deal, the stranger tells him he must perform a similar favor for three other people. Chris quickly discovers there is a large chain of good deeds that have passed on from several different people, but the origins of this outbreak of virtuousness are mysterious.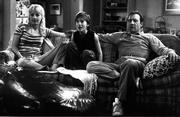 The idea of "paying it forward" actually begins as an extra credit project in a middle school social studies class. The teacher, Eugene Simonet (Kevin Spacey), asks his students to come up with a plan to change the world and to put the plan into action. Both the assignment and the instructor are formidable. Mr. Simonet has an intimidatingly large vocabulary, and his disfigured face makes him seem even more imposing. A well-meaning lad named Trevor McKinney (Haley Joel Osment, "The Sixth Sense") proposes the idea that later obsesses Chris.
In his own life however, Trevor's plan yields little. His attempt to help out a homeless heroin addict (James Caviezel) succeeds only in frightening Trevor's mom, Arlene (Helen Hunt, playing yet another waitress). He tries an additional noble turn by acting as matchmaker for the lonely Mr. Simonet.
"Pay It Forward" might have seemed less contrived if Dixon and Leder had skipped this awkward attempt at romance. The pairing of the fussy, erudite Mr. Simonet and Trevor's uncultured alcoholic mom only works on-screen, and Hunt and Spacey don't have the chemistry to make this big a stretch believable.
To be fair, under some heavy-duty prosthetics, Spacey projects the right blend of snobbery and vulnerability. Mr. Simonet is not a cold man, but his aloof nature owes more to fear than egotism. Expectedly, Osment is also strong and seems to be carrying a frustration of a much older person, making his naive attempts at bettering the planet more touching.
Much of the environment in this movie is sanitized (Arlene's house appears beyond the earnings of even a double-shifting waitress). Leder, who cut her directing teeth on episodes of "ER," still gives the flick enough grit (in the form of substance abuse, profanity and violence) to become something more than a feature-length "Afterschool Special."
"Pay It Forward" elicits more emotion than it deserves. Still, shedding a tear or two on account of the film is not an unreasonable request.
Copyright 2018 The Lawrence Journal-World. All rights reserved. This material may not be published, broadcast, rewritten or redistributed. We strive to uphold our values for every story published.