Tonganoxie — Katie Hauk stood Wednesday night outside the charred structure that was once her home, staring at the caved-in roof and blackened interior that had been gutted by a fire earlier that day.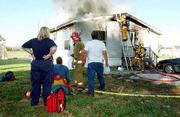 The fire at Paradise Park, a trailer park at 222nd Street and Kansas Avenue, probably was caused by Hauk's 4-year-old son playing with a lighter around 3:30 p.m., Katie Hauk said. Though no one was injured and neighboring homes weren't touched, flames and smoke all but destroyed the home of Hauk, her husband, Mel, and two sons.
A smoke stench still lingered into the evening as Mel Hauk collected a pile of belongings salvaged from the fire a photo album, champagne glasses, a Harry Potter book, a bucket of Lincoln logs belonging to 10-year-old Gage and 4-year-old Charlie.
Neighbors comforted Katie Hauk, offering sheets, towels, food, whatever they needed.
"She's so lucky," neighbor Mildred Ruff said. "I told her, you've got your babies, you've got your own self, the rest can be replaced."
The fire was started when Charlie got home from school and took a lighter from his mom's purse, Katie Hauk said. The boy probably was playing with the lighter in a bedroom by a hamper when he set clothes on fire. A bag of fireworks left from last summer's Fourth of July celebrations was under the bed and probably exploded when the fire spread near them.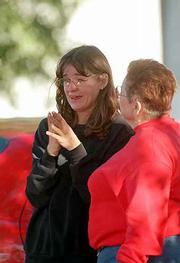 "I heard the fireworks and I saw that's where the fire was and I just told him to get out," Katie Hauk said. "I said, 'go, go, go!'"
Katie Hauk said their home of five years was consumed in flames within minutes.
Tonganoxie Township firefighters soon arrived on the scene.
"It was pretty fully involved at that point," assistant chief Tim Smith said. "It went quickly."
Because there were no water hydrants in the trailer park, Tonganoxie Township firefighters had to call for more water and manpower from Reno and Stranger Creek Townships and the city of Tonganoxie, Smith said.
Smith estimated damage to the structure and contents to be about $200,000.
"There's going to be little that will be salvaged," Smith said as firefighters handed smoke-damaged items from a blackened buffet cabinet to the Hauks. "This family's going to need a lot."
Copyright 2018 The Lawrence Journal-World. All rights reserved. This material may not be published, broadcast, rewritten or redistributed. We strive to uphold our values for every story published.