Ashley remembers what it was like growing up with an alcoholic parent.
"It takes you down emotionally. I was a very timid person. If I was in a big group, I was really shy. I was afraid if I opened up to them, they would find out I have an alcoholic parent, and they would not want to be friends with me."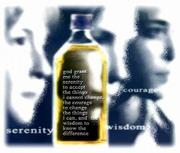 The 18-year-old Topekan, who graduated from high school in May, found support as the loved one of an alcoholic in a group called Alateen. (Last names in this story have been withheld on request.)
Alateen is an international fellowship of young relatives and friends of alcoholics who come together to discuss their difficulties, encourage one another and learn how to cope with the problems that often trouble people dealing with alcoholics in their lives.
Alateen members, who range in age from 12 to 19, learn that compulsive drinking is a disease, an incurable illness they did not cause, cannot control or cure.
Developing a new view
One of the more important lessons Alateen teaches is how to detach oneself emotionally from the drinker's problems while continuing to love the person.
Alateen is affiliated with Al-Anon, which is a separate fellowship from Alcoholics Anonymous (AA). The difference between the groups is that AA tries to help alcoholics recover from their illness, while Alateen and Al-Anon focus on improving the lives of those close to the alcoholic.
My alcoholic parent wasn't around very much. It made my life a lot more stressful. It was hard to keep my mind on school when I would think about what was going on at home. It's a family disease; everyone is affected by alcohol, emotionally and physically."
18-year-old Ashley
Alateen and Al-Anon urge people to get on with their own lives, while still valuing their alcoholic friends or relatives.
The two fellowships are modeled after the Twelve Steps format that has been adapted from AA.
The Twelve Steps are a process that people in support groups for different addictions and other life problems use to recover from an illness, make amends for past mistakes and turn for strength and guidance to a higher power like God.
Al-Anon was started in 1951, and Alateen was formed six years later. There are about 31,000 Al-Anon and Alateen groups in 112 countries.
Strengthening family
Lawrence has one Alateen group, Jayhawk Alateen, which meets at 7 p.m. Wednesdays at Heartland Community Church, 619 Vt.
Alateen was formed by Al-Anon to help young people recover from the effects of someone else's drinking. Alateen members learn:They cannot change or control anyone but themselves.They have spiritual and intellectual resources with which to develop their own potential, no matter what happens at home.They can build satisfying and rewarding life experiences for themselves.To learn more about Al-Anon and Alateen, write to Al-Anon Family Group Headquarters Inc., 1600 Corporate Landing Parkway, Virginia Beach, Va. 23454-5617.Or click on
www.al-anon.alateen.org
. For worldwide meeting information, call 1-888-4-AL-ANON (425-2666).
But the group is not associated with any church or outside organization.
Ashley has attended Alateen meetings in Topeka for six years. That support has helped her make it through some tough times.
"My alcoholic parent wasn't around very much. It made my life a lot more stressful. It was hard to keep my mind on school when I would think about what was going on at home. It's a family disease; everyone is affected by alcohol, emotionally and physically," she says.
Attending the Alateen meetings has helped her improve interactions with other people.
"My self confidence has grown so much, and I now am able to accept my alcoholic parent regardless of the drinking. We can still have a conversation," she says.
"I'm not afraid at all to tell people I'm a member of Alateen. I feel like I have a second family. If it's 3 o'clock in the morning, and I have a problem, there's someone I can call."
Clearing away the confusion
Sarah, a 29-year-old from Lawrence, has been the adult sponsor of Jayhawk Alateen for about a year.
"The group's been pretty small actually. It folded a couple of years ago because there weren't enough kids coming. A lot of the problem is that people don't know it's here," Sarah says.
"We've had as few as one and as many as five kids show up for meetings."
The range in age of Jayhawk Alateen participants these days is from 12 to 14.
Sarah has an alcoholic family member and attended Alateen meetings when she was growing up.
"It's basically to help people deal with the effects of alcoholism in their lives. It clears away some of the confusion, pain, anger and depression. For me, it was pretty much learning how to cope with other human beings," Sarah says.
"It's a place where you can say things that you wouldn't be able to say anywhere else. You can say what you need to, and it's not going to leave the room."
Many young people are profoundly affected by the alcoholism of their parents. They experience many of the same feelings that adults do, including a sense of loss, confusion and guilt.
For Ashley, Alateen linked her with other struggling teen-agers and made all the difference.
"I'm a much happier person now. I smile every day," she says.
Copyright 2018 The Lawrence Journal-World. All rights reserved. This material may not be published, broadcast, rewritten or redistributed. We strive to uphold our values for every story published.