A new play staged by University Theatre takes a frank look at incest.
Paula Vogel's "How I Learned to Drive" won a 1998 Pulitzer Prize for its examination of a man's sexual relationship with his niece. The playwright was determined to create three-dimensional characters and an unflinching portrayal of actions where both the perpetrator and victim become uneasily aligned in a mutual bond of silence and cover-ups.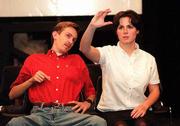 The end result is a harsh but compelling piece about a crime most people don't want to talk about.
"I think it is both intense and emotional. It's disturbing to me and I think it would be to the viewer," director Leslie Atkins-Durham says.
The play tells a young woman's coming-of-age story set in the 1960s and '70s. Told through flashbacks, Li'l Bit recounts her involvement with her Uncle Peck.
In her dysfunctional family, he is a comfort to Li'l Bit. He listens to her, gives her driving lessons, but then sexually abuses her in his car.
To keep audiences from being overwhelmed in the play's emotional aspects, the playwright put in all sorts of theatrical stage directions to remind viewers that they were watching a drama.
That includes the use of a Greek-style chorus to comment on the action, scenes that flash forward and backward in time, music, humor and set pieces that the actors move and set up during the play.
The main action takes place in the front seat of a car. The car is broken apart to form furniture, then reassembled as the vehicle throughout the show. The actors (including Josh Meyer as Uncle Peck and Sandi Bailey as Li'L Bit) handle the assembling of the pieces.
"Everything is self-conscious in a theatrical sense. It keeps the audience intellectually active and helps them avoid being sucked in emotionally," Atkins-Durham says.
No easy answers
The play gained notoriety because of its portrayal of the two main characters. Incest evokes such strong reactions that it's often depicted as a crime of one-dimensional villains attacking the victim.
"How I Learned to Drive," however, delves into the complex psychological factors that arise between the victim and victimizer.
Instead of a movie-of-the-week staging, the play offers up two intelligent characters who hurt and are hurt by each other, and the life lessons the victim learns.
And it goes deeper by examining how family responses can affect the outcome of such a crime, and how the media's depiction of young girls also is responsible for the sexualizing of girls.
"The music used, like the Beach Boys and Gary Puckett and the Union Gap, give a sense of sexualizing girls at an early age. It's an implication of ones outside the family. American culture makes possible this sort of relationship." Atkins-Durham says.
The show also implicates family members who choose to ignore the ongoing incest.
"The play is not simply about a purely evil man. It in no way excuses what he does, but it does show how even he does some good things. And it doesn't excuse the family they are all in some way responsible for driving the action along," she says.
Also disturbing to some audiences is the frequent use of humor in the play. Viewers often misinterpret the humor as making light of the crime. It is actually there to lighten the heavy emotion, while also conveying the idea that humans are resilient and can overcome even being victimized by loved ones.
"The play talks about gifts received from those who hurt us," Atkins-Durham says. "About how you can gain some element of strength from being able to move past something and go on with your life. In that way it's positive."
Copyright 2018 The Lawrence Journal-World. All rights reserved. This material may not be published, broadcast, rewritten or redistributed. We strive to uphold our values for every story published.