A mother-and-daughter team is spending $1 million for more room to dance, cheer and celebrate.
Dance City Performing Arts Academy, established nearly four years ago at 23rd and Louisiana streets, is building a larger home in southwest Lawrence. It expects to move in soon after Jan. 1.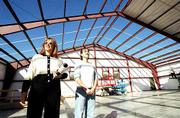 The $1 million project will give Dance City more than 10,000 square feet of space for its expanding dance and cheerleading classes, plus room for a climbing wall and other features expected to be popular for birthday parties and other special events.
"A quality product has to include a quality facility," said Judi Mahaley, who co-owns the business with her daughter, Lori Tochtrop. "They go hand in hand. When you have a state-of-the-art facility, combined with professional instruction, you'll get a good return on it."
Dance City isn't alone in upgrading its space.
Last year, Dance Gallery opened its own 9,600-square-foot building at 4940 Legends Drive.
Both of the private businesses offer dance, tumbling and cheerleading programs, and both soon will be competing for clientele from buildings west of Wakarusa Drive.
"Lawrence is a growing town," said Karen Fender, who started Dance Gallery 20 years ago and today has about 450 students.
The not-for-profit Lawrence Arts Center is consolidating its dance operations into a new $7.14 million building downtown, expected to be finished by the summer of 2002. The building will include two dance studios and dressing rooms covering about 3,000 square feet, in addition to performance, exhibition and arts education space.
Last year, the center's 200 dance classes drew 2,000 students.
"I really believe in some competition," said Ann Evans, executive director of the arts center. "It's going to make us do a better job and them do a better job and serve the public better."
Mahaley and Tochtrop currently are operating classes in temporary space at the downtown Lawrence Riverfront Plaza. It had been using 3,600 square feet at The Malls shopping center since January 1997 when Dance City started with 55 students. Since adding Spirit of Kansas All-Star Cheerleading Inc. last year, the business has grown to more than 300 students, from age 2 to adult.
The new building's three dance studios will feature professional-quality floors. A cheer and tumbling area will include a trampoline, spotting belt system, climbing wall and surround-sound stereo system.
An enclosed mezzanine will offer a viewing area and double as a party room, available for birthdays and other celebrations.
"There are all sorts of things we can use the cheer gym for," Mahaley said. "There is plenty of opportunity."
Copyright 2018 The Lawrence Journal-World. All rights reserved. This material may not be published, broadcast, rewritten or redistributed. We strive to uphold our values for every story published.