Lawrence needs a signature park, according to a consultant hired to put together a parks and recreation master plan for the city.
"When friends come to town, you take them to the signature park. That tells you who you are," consultant Leon Younger said. "It creates a sense of community pride."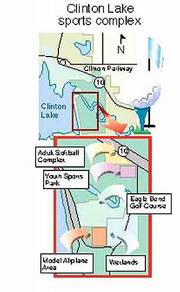 South Park now fits such a bill "That's what people think of when they think of Lawrence" said Fred DeVictor, director of Parks and Recreation.
But the new approach to signature parks should include many amenities that allow both active and passive enjoyment, such as that offered at Shawnee Mission Park in Johnson County, Younger said.
Younger, president of Leon Younger and Pros consulting group of Indianapolis, presented city commissioners with a master plan during a study session Wednesday morning.
The likely spot for a signature park in Lawrence, Younger said, would be on land the city leases from the U.S. Army Corps of Engineers below Clinton Lake dam. The 1,515 acres now has Eagle Bend Golf Course, a wetland area and ball fields.
"We've got a reasonable start," Commissioner Erv Hodges said.
Hodges said he can envision another outdoor aquatic center, walking trails and an outdoor amphitheater, perhaps built to mark the city's 150th anniversary in 2004.
" It creates a sense of community pride."
Consultant Leon Younger
"We have the space that we can do these things," he said. "This would be the park that would welcome all ages and all interests."
Younger said he was impressed with what Lawrence already offers in the way of recreation facilities.
Public surveys showed city residents to be using and enjoying the various parks and recreation centers, he said. But survey respondents said they would like to see more connections for the city's hiking and biking trails. They also asked about an ice rink, which Younger said is becoming more popular with the growth of hockey.
Younger suggested the city consider recruiting a private corporation to build an ice rink in Lawrence. "You have to go after them," he said.
Younger has recommended an overhaul of the Parks and Recreation Department's organizational structure. He said fewer people should report directly to DeVictor and recommended the addition of two employees to the department.
The additional staff is one concern for Hodges.
"The more we develop, the greater the financial demands to maintain and serve the public," he said.
The master plan presented by Younger ultimately will come to commissioners for adoption.
Copyright 2018 The Lawrence Journal-World. All rights reserved. This material may not be published, broadcast, rewritten or redistributed. We strive to uphold our values for every story published.