Fans of the boy band 98 Degrees have two reasons to celebrate. Promoting their new album, "Revelation," the thermal chorale will appear on "98 Degrees & Hoku in Concert" (7:40 p.m., Disney). For those not in the know, Hoku recorded the song, "Another Dumb Blonde," for the soundtrack of the winter-hit movie, "Snow Day."
98 Degrees will also cameo on tonight's episode of "Just Shoot Me" (8:30 p.m., NBC, TV-PG). Picking up from last week's uncharacteristically maudlin season premiere, Jack is feeling sorry for himself after his wife's departure. To avoid his staff's awkward stabs at sympathy, he retreats to seclusion in the Plaza Hotel. There, Finch surprises him with his new band (98 Degrees), who perform a song to cheer him up.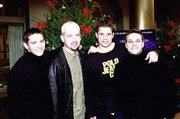 I'm sure I'm not alone in hoping that "Just Shoot Me" returns to its cynical groove.
With the first pitch of the World Series only a few days away, AMC celebrates with a daytime mini-marathon of baseball movies beginning with the 1952 biography of pitcher Dizzy Dean, "Pride of St. Louis" (9:30 a.m., TV-G). Many critics have faulted "The Babe Ruth Story" (1 p.m., TV-G) for its overly sentimental look at the Great Bambino.
My favorite film in this horsehide film festival is "Fear Strikes Out" (11:15 a.m., TV-G). Anthony Perkins stars in this 1957 drama as pitcher Jimmy Piersall, who played well enough to get into Cooperstown while battling mental illness during his 17-year career. Look for a young Anne Bancroft in the 1953 drama, "The Kid From Left Field" (4:30 p.m., TV-G), along with Yankee legends Mickey Mantle, Whitey Ford and Roger Maris.
Other highlights
Scheduled on "48 Hours" (7 p.m., CBS): the taboo romance between a U.S. Marine and a princess from Bahrain.
A convict (Ray Liotta) commandeers a jetliner in the 1997 thriller, "Turbulence" (7 p.m., Fox, TV-14, D, V).
Rory golfs with her grandfather, and enjoys herself, much to Lorelai's chagrin on "Gilmore Girls" (7 p.m., WB, TV-PG).
"The Wyvern Mystery" on "Mystery!" concludes (8 p.m., PBS).
Domesticity is more difficult than imagined for Greene and Corday on "ER" (9 p.m., NBC, TV-PG).
Presidential candidate Gov. George W. Bush appears tonight on "Late Show With David Letterman" (10:35 p.m., CBS).
Copyright 2018 The Lawrence Journal-World. All rights reserved. This material may not be published, broadcast, rewritten or redistributed. We strive to uphold our values for every story published.