New York — David Justice's home run soared toward the No. 4 train, and New York had its first Subway Series in 44 years.
Fighting off weeks of doubts, the New York Yankees followed the Mets into the World Series, rallying from a four-run deficit to beat the Seattle Mariners, 9-7, Tuesday night and win the AL championship series 4-2.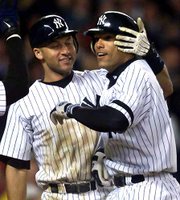 "It's going to be exciting," Yankees manager Joe Torre said. "It's been a long time coming."
Derek Jeter took it a step further: "This city is going to be crazy."
Despite his worst October outing, Orlando Hernandez lasted seven innings and became the first pitcher ever to go 8-0 in postseason play.
With Seattle ahead 4-3 in the seventh inning, Justice lined a pitch from Arthur Rhodes into the right-field upper deck for a three-run homer that earned him the series MVP award.
"We were written off," Justice said. "We stuck together."
Paul O'Neill added a two-run single and Jose Vizcaino, whose infield single started the inning, hit a sacrifice fly for a 9-4 lead.
Alex Rodriguez, in perhaps his final game for the Mariners, homered leading off the eighth and Hernandez left after a walk.
Mariano Rivera relieved and allowed an RBI double to John Olerud, then a two-run double by Mark McLemore that hit off the first base bag as two more runs scored, ending his postseason scoreless streak at 331/3 innings over three years.
But Rivera held on in the ninth as the Yankees won their record 37th American League pennant and their third in a row.
Just 24 hours, 38 minutes after Timo Perez caught the final out of the NLCS at Shea Stadium, about 8 miles away, the final out of the Yankees tense season ended when Edgar Martinez grounded to shortstop with a runner on at 12:17 a.m. EDT.
And so a half century after Willie, Mickey and the Duke dominated baseball, it will be Bernie, Benny and El Duque at Yankee Stadium starting Saturday night, the first Subway Series since the Yankees beat the Brooklyn Dodgers in 1956.
Seattle stormed to a 4-0 lead against the two-time, defending World Series champions, getting consecutive RBI doubles from Rodriguez and Martinez in the first, and a two-run, upper-deck homer from light-hitting Carlos Guillen in the fourth.
But John Halama, a Brooklynite who blanked the Yankees for six innings in Game 2, was chased in the third, when Jorge Posada hit a two-run double and O'Neill, fighting the biggest batting worst slump of his life, singled in a run on the next pitch.
Hernandez and Mariners reliever Brett Tomko both escaped jams in the middle innings, getting defensive help from their All-Star shortstops, Rodriguez for Seattle and Jeter for New York.
And then the game turned in a 39-minute seventh inning roughly the time it takes to go from Yankee Stadium to Shea, if the change of trains at Grand Central Terminal goes smoothly.
Tomko didn't allow a hit in 22/3 innings, but he threw 51 pitches, a high amount for a reliever, and Jose Paniagua relieved to start the seventh.
Vizcaino, one of the seven players on the postseason roster the Yankees added during the season, started the inning with a perfectly placed single in the hole between first and second base.
Second baseman Mark McLemore got to it, but his throw from the right field grass was just a little too late.
Chuck Knoblauch sacrificed him to second and Jeter singled just between Rodriguez, his rival and pal who had four of Seattle's 10 hits, and Guillen at third.
Seattle manager Lou Piniella, who like Rodriguez may have spent his final night in a Mariners uniform, then brought in Rhodes.
In Game 2, the Yankees trailed 1-0 and been shut out for 21 innings when Justice doubled off Rhodes, sparking a seven-run eighth inning that gave New York a 7-1 win and tied the series.
In that game, umpires angered Justice by ruling he didn't check a swing on a 1-1 pitch,
This time, he got the call on a close 2-1 pitch.
Fans were on their feet, even Mayor Rudolph Giuliani applauding with his glove-covered hands. The upper deck swayed back and forth, and Justice sent the ball on an arc, a no-doubt homer from the moment he hit it.
Justice, a June acquisition from Cleveland, gave double high-fives when he met Jeter and Vizcaino at home plate, more high-fives to Bernie Williams, Tino Martinez and Luis Sojo by the dugout, then slammed his helmet down, adrenaline rushing through his veins.
Notes: The Yankees are the first team to win three straight pennants since Oakland from 1988-90. Teams have won three straight 17 times, with the Yankees accomplishing it nine times. ... It will be the 14th Subway Series. The Yankees held a 4-2 edge over the New York Giants and 6-1 over the Brooklyn Dodgers. ... Dan Wilson's soft single to right leading off the fifth stopped a record 42 at-bat hitless streak in postseason play and a 26 at-bat hitless streak in the LCS. Marv Owen went 0-for-31 for Detroit in 1934 and '35. ... Hernandez had never allowed more than three earned runs in a postseason start.
Copyright 2018 The Associated Press. All rights reserved. This material may not be published, broadcast, rewritten or redistributed. We strive to uphold our values for every story published.