Lawrence High savored the sweet taste of victory while enjoying ice cream sundaes following its volleyball quadrangular on Tuesday.
Seniors Katie Bell, Nikki Wenger, Annie Willoughby, Ashley Bechard and Alexis Heere especially enjoyed the Lions sweep of Topeka West, 5-15, 15-0, 15-6; Emporia, 15-7, 11-15, 16-14; and Leavenworth Immaculata, 15-2, 15-11, in their last appearance on the Lions' home court.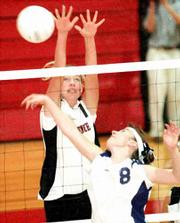 "It just feels so good to go 3-0 in a home quad on Senior Night," Bell said. "We had a lot of people show up, and it meant so much more tonight."
The Lions dropped the first game to Topeka West only to win the next two by large margins. Bell was crucial in that victory, collecting seven kills in the 55-minute match.
Emporia proved to be tougher for the Lions. Down 11-6 in game three, the LHS crowd went wild. Emporia's Arfalee Patton and Ashley Ohiman combined for eight kills in game three alone. The Lions, however, used an error from Patton to spur a four-point run. Keyed by set fakes from Bechard, the Lions were able to take the lead and eventually win the match.
LHS coach Jo Huntsinger saw the Emporia victory as the most critical of the competition.
"We were down quite a bit, but we were real happy with the ability to come back like that and win the match," Huntsinger said.
Players took a break to honor the seniors after the Emporia match.
Parents of all five seniors escorted their daughters on the court to receive balloons, flowers and an ovation from the home crowd.
"The crowd was awesome," said Wenger. "We couldn't have done it without them."
Indeed, the Lions (19-15) pulled their emotions together against Immaculata.
Huntsinger was pleased with her team's performance in the final match. She was especially happy with the seniors' output, saying they played with "heart."
The focus now shifts to sub-state, set for Saturday at Olathe South.
"Execution, being able to hit line, hit angle, block and (having) defense in transition," Huntsinger said of what the Lions will work on before sub-state. "We're just going to practice and work on refining those skills."
Following the match, the players shared tears, memories and hugs over gigantic bowls of ice cream with all the toppings. Team members joked that underclassmen will have "huge" shoes to fill after this year.
Like Huntsinger, however, Bell believed Tuesday's performance was an indication of what will come in sub-state.
"I just think this (win) is a really big step from us," Bell said. "Just taking that step, getting over the hump we're ready for sub-state now."
Other teams at the sub-state will be Free State, Leavenworth, Olathe East, Olathe North, Olathe South, Overland Park Aquinas and Topeka. The eight teams will be split into two four-team tournaments with the two winners advancing to state the following week at the Kansas Expocentre in Topeka.
Copyright 2018 The Lawrence Journal-World. All rights reserved. This material may not be published, broadcast, rewritten or redistributed. We strive to uphold our values for every story published.