A group of Haskell Indian Nations University friends and alumni is doing its best to rescue a troubled landmark.
The Haskell Stadium Arch, they say, is in desperate need of about $55,000 in repairs.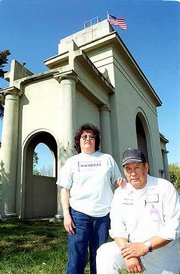 "When you're standing on the ground, the ledges don't look too bad," said John Stanley, a HINU maintenance worker and treasurer of the Arch and Stadium Committee. "But I've been up there, and when you look down on them, they're like loose gravel. They're completely shot."
Elsewhere on the 74-year-old arch, patches of the stucco exterior have buckled, and small cracks are becoming apparent. The arch is about 40 feet tall and made from concrete with a smooth stucco surface.
"Once the deterioration gets started up there," Stanley said, pointing to the top of the arch, "it works its way down. That's what's happening."
So far, the Arch and Stadium Committee has raised about $3,000 for the project, which also includes buying American flags and red, white and blue banners and bunting to match those on display during the complex's dedication ceremonies Oct. 27 through Oct. 30, 1926.
The committee was initiated by Eli and Mary Jackson, who practically grew up on the Haskell campus because their parents worked there.
Most of the money has been raised through food sales, but other fund-raising campaigns are in the works, including the sale of 250 reproductions of the original 48-page programs handed out during the dedication.The committee also hopes to install a plaque, reminding the public that the arch, built in conjunction with the stadium, was and still is a memorial to World War I veterans, including 415 American Indian men who served in the military even though they were not granted citizenship until 1924.
According to HINU records, funds for the arch's construction were raised solely from within the American Indian community.
A re-dedication ceremony is planned for the 2001 HINU homecoming, the arch's 75th anniversary.
For a copy of the program reproduction, send $10 to the Arch and Stadium Committee, 155 Indian Ave., Box 4998, Lawrence 66045.
Copyright 2018 The Lawrence Journal-World. All rights reserved. This material may not be published, broadcast, rewritten or redistributed. We strive to uphold our values for every story published.