St. Louis — The death of Missouri Gov. Mel Carnahan in a plane crash Monday night seemingly halted one of the nation's closest races for the U.S. Senate and may well have ended Democrats' chances of taking control of the Senate.
As word of the accident spread Tuesday, a quiet, somber mood settled over a city that had been in the crazed throes of preparing to host a nationally televised presidential debate. The timing was jarring, coming on the eve of the final face-off and just three weeks before Carnahan, a Democrat, was to challenge Republican Sen. John Ashcroft at the polls.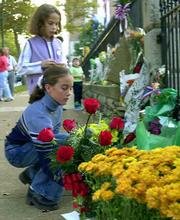 As National Transportation Safety Board officials arrived to investigate the crash, debate leaders decided to go ahead with Tuesday night's event. Missouri officials swore in a new governor, and the presidential candidates canceled campaign rallies there in a show of respect.
Democrats around the country, meanwhile, began to take stock of a changed political horizon.
Carnahan's bid was one of at least seven contests across the country the Democrats had seen as crucial to gaining a majority in the Senate, which is controlled by Republicans who hold a 54-46 edge.
"This makes it much more difficult to see a path where the Democrats can take back the Senate," said Frank Greer, a Democratic media consultant. "It's not impossible, but it's much more difficult."
Late Monday night, Carnahan, his son and a campaign aide were on their way from a campaign stop in St. Louis to another in New Madrid, Mo., when their twin-engine, six-seat Cessna crashed in fog and rain.
The wreckage, mostly in small pieces, was spread across a wooded, rugged area in Jefferson County, about 25 miles south of St. Louis.
Killed Monday night were Carnahan, 66; a senior campaign aide, Christopher Sifford, 37; and one of Carnahan's sons, 44-year-old Roger "Randy" Carnahan, who had been piloting the plane as he often did on his father's campaign trips.
Mel Carnahan, a reserved, down-to-earth man and a Baptist deacon, was first elected to public office at age 26, as a municipal court judge and then as a member of the state House of Representatives. He wasn't especially polished or fancy or flamboyant. On Tuesday, former U.S. Sen. Thomas Eagleton chose these words to describe him: straight-talking, decent, forthright, diligent and concerned.
Carnahan was elected lieutenant governor in 1988 and was first elected governor in 1992. When he was lieutenant governor, Ashcroft held the governor's office. Disagreements between the two began there. At one point, Ashcroft filed a lawsuit challenging the extent of Carnahan's powers while Ashcroft was out of state.
Carnahan favored abortion rights, a volatile issue in Missouri. He also pushed for more spending on education, at one point risking his political future by pressing for a $310 million tax increase. And though he supported the death penalty, Carnahan spared a convicted murderer from execution after a plea from Pope John Paul II during the pontiff's visit to St. Louis in 1999.
Gov. Carnahan also was largely credited with repairing Missouri's Democratic Party with his election in 1992, when other Democrats also won numerous state posts.
Under Missouri law, Carnahan's name will remain on the ballot. The deadline for changing the ballot was last Friday.
Ashcroft on Tuesday suspended his campaign appearances, and Republicans stopped broadcasting television commercials.
Few people were sure what Carnahan's presence on the ballot would mean. Most Democrats and Republicans speculated that Ashcroft will win handily.
If, by some chance, Carnahan were to win, a new senator would be appointed for a two-year term by the sitting governor. At 2:15 a.m. Tuesday, the state's lieutenant governor, Democrat Roger Wilson, took that role.
Former Sen. John Danforth, a Republican who praised Carnahan as a "good man," put it simply: "It means John Ashcroft is re-elected."
Democrats, who lost control of the Senate after the 1994 election, had hoped to make gains in this year's election. While they remain competitive in at least seven other states, Democrats had been counting on Carnahan. The prospect of winning control now seems less possible, experts said.
"That is now a real long shot," said political analyst Stuart Rothenberg. "I think this changes the math significantly. Now, they have no margin for error."
Copyright 2018 The Lawrence Journal-World. All rights reserved. This material may not be published, broadcast, rewritten or redistributed. We strive to uphold our values for every story published.