Tonganoxie — Free State High junior setter Katy Vormehr had some aces up her sleeve during a high school volleyball match Tuesday night at Tonganoxie.
With the Firebirds clinging to an 8-4 lead against the Chieftains, Vormehr let loose three aces in a string of five unanswered points, and Free State went on to win, 15-6, 15-7.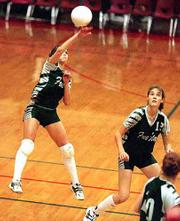 "Katy's real good about putting the ball where I want it," FSHS coach Nancy Hopkins said. "She can pick out the weak passers, and she'll find the holes and she'll put it there."
The Firebirds won twice at Tonganoxie, also tripping Topeka High, 15-11, 15-4. Free State was clipped by Overland Park Aquinas in the opening match, 15-13, 15-11.
"We haven't been playing very well," Hopkins said. "There's been a lot of things going on on the court that really didn't belong on the court. So we've been working on that a little bit. They played pretty relaxed.
"They played fairly well against Aquinas. We kept them pretty close. With a few more things going our way, that would have been better."
The Firebirds (21-15) and Chieftains traded points to open their match before Vormehr's aces explosion.
"Just concentrating more," Vormehr said of her secret to success. "That's the whole key to serving is you've got to concentrate and focus on the serving."
Free State jumped to a 7-0 lead in the second game as sophomore outside hitter Jayme Lisher served the first six points. The Firebirds also received two blocks from senior middle blocker Joyia Chadwick and kills from Vormehr, twin sister and junior outside hitter Amy Vormehr and senior setter Erin Wyatt.
Tonganoxie fought within 8-5, but couldn't come any closer the rest of the way.
"We felt that we could have won," THS junior Aimee Eisman said. "It was like, 'Yeah, they're a big school, but we have a chance. We're the underdog so let's go out and show them what we've got.' We felt that we could have beat them."
Unofficially, Eisman led the charge for the Chieftains with four kills against the Firebirds.
"We hustled a lot better," Eisman said. "We've improved a lot over the season, and I think we've done tremendous this year just improving our skills."
Chadwick finished with four kills and five blocks as the Firebirds had a boatload of blocks against the Chieftains.
"Well, I said at the beginning of the year we really we really weren't going be concentrating on blocking as much because I lost a lot of height," Hopkins said. "But this team's been blocking very well. Joyia, of course, is 6-2, and she's been blocking a lot, but Gretchen (Huffman) had a lot of blocks that last game. Stephani Heider's been blocking really well, Jayme Lisher.
"All the ones that weren't blocking all that well at the beginning of the season have really come on here toward the end. That's going to help us, I think."
Hopkins has heard that Aquinas probably will be the top seed in Saturday's sub-state at Olathe South, with Free State sitting at either No. 2 or No. 3.
How does she feel about the way the Firebirds are playing heading into the postseason?
"Well, every team always needs work," Hopkins said. "After the tournament last Saturday (at Emporia), I knew we needed a lot of work. This gives us three more days to practice. We can work on the things that have not been gelling for us very well and I think that will help.
"We've been practicing really well. We just haven't been playing all that well."
Free State thinks it could be all's well that ends well this weekend.
"If we play as hard as we can," Vormehr said, "I think we can show all the other teams at the sub-state what we're made of. On our away games, we haven't really showed much of it. But I think if we work hard in practice and give it our best, we'll be able to win some."
Besides Aquinas and Free State, other teams at the sub-state are Lawrence High, Leavenworth, Olathe East, Olathe North, Olathe South and Topeka.
The Firebirds have qualified for the Class 6A state tournament the past two years.
Copyright 2018 The Lawrence Journal-World. All rights reserved. This material may not be published, broadcast, rewritten or redistributed. We strive to uphold our values for every story published.