Judy Wright helped mentor Shirley Martin-Smith during her run for Lawrence City Commission.
On Tuesday, Martin-Smith now a former Lawrence mayor returned the favor by introducing Wright as winner of the 2000 Athena Award, given to a top mentor for women in business.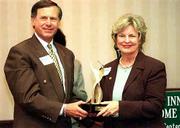 "It's humbling, and it's such an honor," said Wright, honored after a luncheon at the Lawrence Holidome. "The people that are associated with this group are leaders in their own right, and I have such respect for the kind of things they do, that I'm very honored and taken aback."
Wright is director of the Chancellors Club, which is Kansas University's major-donor organization operated by the Kansas University Endowment Association. The Chancellors Club has about 1,500 members, whose gifts range from $1,000 a year to more than $1 million for a lifetime.
The award given by the Lawrence Chamber of Commerce, Professional Women of the Chamber and Crown Automotive is part of a worldwide program that honors people who have excelled in their fields, benefited their communities and served as mentors for women.
Martin-Smith, of Adecco and Martin-Smith Personnel Services, won last year's award. Dee Bisel won in 1998 and Jan McNish took home the first award in Lawrence, in 1997.
Wright oversees a staff of two at the endowment association, where she has worked since 1994. Previously she had been director of membership and development at KU's Helen Foresman Spencer Museum of Art.
Wright also had been nominated for the award last year.
Other nominees for this year's Athena Award: Jane Bateman, of Jane Bateman Inc.; Hannes Combest, of Golf Course Superintendents Association of America; Denise Gibson, of The Farm Inc.; Sue Hack, of Lawrence public schools; Becky Mason, of Tele-Savers Inc.; and Jean Milstead, retired from Douglas County Bank.
Copyright 2018 The Lawrence Journal-World. All rights reserved. This material may not be published, broadcast, rewritten or redistributed. We strive to uphold our values for every story published.