For all you do-it-yourself tilers, woodworkers, plumbers, gardeners, interior designers and general handy people, there's an incredible, relatively new tool to help you get the job done.
It's the computer, and although it won't hammer the nails or fertilize the lawn for you, it can take you to places that offer everything from the newest home and garden products to assistance for do-it-yourself projects to tips on gardening and training pets.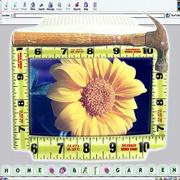 Every day, it seems, there's some new Web site geared toward the booming do-it-yourself market. Here are some newer sites where you can go to get the lowdown.
Don't have a computer? Head to the library and use one there.
Home
MORE: www.homestore.com.
This site offers a multitude of products and services. You can learn how to install a doggie door, plan a new home and find someone to build it, check out the latest mortgage interest rates, look into buying property in Hawaii, and get information on maintaining pools and spas. Need information on financing a remodeling project? This is the place to find it.
You can also share ideas through the message board and find out how to test your water, check for lead paint and do a home-evaluation quiz if you are buying or selling a home.
MORE: www.homeportfolio.com.
HomePortfolio is an online marketplace for home design products, information and services. It offers consumers a large database of home design information and products, including tiles for floors and countertop, kitchen and bath cabinets, fabrics and closet systems. The site also lets users set up online portfolios for saving and organizing ideas and favorite products, and provides links to local retailers and designer showrooms. It's useful for both those who have money for creative decorating and those who just want to browse and learn about the latest trends and styles in home decor.
MORE: www.DIYonline.com/.
This site lets users custom-design a home improvement project, receive printouts with drawings of their plans along with step-by-step instructions, generate a complete parts list with prices, and locate a retailer to get the materials you need. It also includes a chat room, e-mail newsletters, live "Ask an Expert" forums, tips for success and more.
Within the Web site are specific design tools for kitchen, decks, sprinkler systems, utility shelves, workbenches, gazebos, fences, greenhouses and baths. There are also calculators to help determine how much paint, concrete, tile or wallpaper is needed for any project. It also helps users draw up a list of tools for their project.
MORE: www.cornerhardware.com/.
Fill your virtual shopping cart with power tools, painting supplies and other items you'd find at a hardware store, or look for articles to help you with your projects. Sample topics: how to find a stud in your wall, 12 common wiring problems, how to sharpen chisels and how to remove wallpaper. There is a question-and-answer feature and live help chat with specialists.
MORE: www.allabouthome.com/.
This helpful Web site offers tips on a variety of subjects, including appliances, cleaning, lawn care, safety, seasonal subjects, pests, disasters and warranties. There are also places to go for freebies, home forums and calculators to help you decide how much you need of various materials. The site is sponsored by ServiceMaster Clean, a national restoration and cleaning company.
MORE: www.homedepot.com/.
Home Depot is testing its online store concept and hopes to expand it soon. In the meantime, you can use this site to get tips on installing a ceiling fan or Pergo flooring, for example. It can compile a list of supplies and tools and calculate how much material you will need and has an ask-an-expert feature if you run into problems.
MORE: www.ubild.com/.
This site for woodworkers offers a variety of simple patterns for building wood projects, including birdhouses, rocking horses, toy trucks, blanket chests, garden benches, playhouses and cabinets. The projects are regularly featured in Sunday's Journal-World.
GARDEN
MORE: www.garden.org/.
This National Gardening Assn. site is full of general information for gardeners, but one of its most useful features is a localized report.
There are also how-to basics, online courses, a horticultural dictionary and plant name finder, events calendar, message board, seed swap, and links to a children's gardening Web site. Need specific help? You can search the site's library for articles.
MORE: www.garden.com/.
Use this e-commerce site to buy seeds, plants, tools and other products; ask questions of the garden doctor; design a garden with a landscape planner; and chat with other gardeners 24 hours a day. You can also send an orchid to your mom, use the plant finder to locate a plant, tour the test gardens, find out what zone you live in and keep an on-line garden notebook.
MORE: www.windowbox.com/.
This site mostly for patio, deck and window-sill gardeners sells products, but also provides a lot of free, information beyond the catalog sales. Experts dish out recipes, tips for using herbs and flowers in potions and potpourri, projects to do with children and entertaining advice.
The Floracle helps you choose what plants are right for your garden, either by searching for specific plants or answering questions about your garden style.
There is also a plant game (billed as the slowest on the Internet) in which someone adopts a virtual plant and must tend it online each day for 16 days until it becomes a flower. Successful participants earn a prize from windowbox.com.
Copyright 2018 The Lawrence Journal-World. All rights reserved. This material may not be published, broadcast, rewritten or redistributed. We strive to uphold our values for every story published.