Katie Jacobsen and Emily Griffin worked diligently to create small books with spooky words and colorful illustrations before Halloween.
"I like kindergarten," said Katie, a student in Caroll Steacy's morning kindergarten class at Schwegler Elementary School, 2201 Ousdahl Road. "I like writing center, and I like my teacher."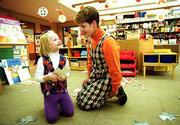 But Katie, Emily and 500 of their peers in 14 Lawrence public schools get only half the learning opportunities afforded another 200 kindergartners in district schools.
The difference is that those other five Lawrence schools Cordley, East Heights, Kennedy, New York and Riverside offer all-day programs that give kindergartners twice as much time to hone emerging academic and social skills.
Steacy, who has been teaching for 30 years, said the difference among elementary schools was troubling. What is beneficial to children at a handful of schools might be beneficial to students elsewhere in the district, she said.
"In early childhood, we talk about teaching to the whole child. It's hard to do when you have them for bits of the day," Steacy said. "They (students) are falling through the cracks."
Evolving education needs
Changes in American society and education during the past 20 years have contributed to the increasing popularity of all-day kindergarten.
School systems have responded to the needs of single parents and dual-employment households by placing about half of the nation's 3.3 million kindergartners in full-day programs. About 27 percent of Kansas kindergartners go to school all day.
A majority of these schools, including the five in Lawrence, are in areas with high incidences of poverty. Children in those households, educators say, tend to have less access to preschool and benefit greatly from all-day kindergarten.
Family issues aren't the only reasons more and more school districts are switching to all-day programs. Some see a need for improving education at the kindergarten level, and others just have more state funds and classroom space.
Some districts turn to full-day kindergarten programs because their state governments not including Kansas provide extra financial aid for those programs. Others make the change to reduce transportation costs by eliminating noon bus trips and crossing guards. As school enrollments decline in some districts, extra building space and qualified teachers are available to staff full-day kindergarten classrooms.
The legislative side
A coalition of statewide education organizations and school districts plan to ask the 2001 Legislature to finance all-day kindergarten throughout the state.
Without state government involvement, decisions to modify all-day kindergarten opportunities in Lawrence won't be easy.
"It's an equity issue. It's a budget issue. It's also about curriculum," said Randy Weseman, Lawrence's interim superintendent, who thinks the district should thoroughly evaluate the issue.
Is it fair to offer educational programs at some Lawrence schools but not at others? Should the state pay for full-day kindergarten? What about charging tuition to parents who want their children enrolled in full-day kindergarten?
And, is it equitable to expect teachers in half-day and full-day programs to complete the same curriculum when some have double the time to get the job done?
Teacher's perspective
"The whole allocation model needs to be reviewed," Weseman said. "I think there are other areas that could benefit. But I don't think it should be a function of a superintendent saying, 'We need to put a program there.'"
Val Howland, a teacher at Broken Arrow Elementary School, 2704 Louisiana, has been teaching in Lawrence for 26 years, mostly at the kindergarten level. She has always had a morning and an afternoon class, but would be open to trying an all-day program.
"The thing I would appreciate about an all-day program is the pace would be different," she said. "Everything is so tightly scheduled with a half-day program."
For example, Howland often reads to her students. If there's a book that really sparks their imagination, they'll ask her to read it a second time.
"I'll always read it again, but I have to cut out something else," she said.
Studies show full-day programs lead to relaxed, unhurried school days with more time for a variety of student experiences, according to research compiled at the University of Illinois at Urbana-Champaign. The study indicates that children spend more time in class and less time bouncing from child-care provider to school, and back to child-care provider.
Steacy said she longs to move away from the "hurry, hurry and get-it-all-in" environment of half-day kindergarten classes.
"There's more I want to do as a teacher," she said. "I want to get to know the children better, to ... know their interests and learning styles."
Space, staffing needs
Steacy used to work in the Lawrence school district's all-day program, teaching with students who had finished kindergarten but weren't ready for first grade. The district no longer operates the program, but she said it gave her a taste of what is possible when teacher and student are together for the entire day.
"I met curriculum expectations," Steacy said. "We tied activities with goals and objectives, but we did it more in-depth. We were relating more things to children's' natural interests. It became more meaningful to them."
On the other hand, critics say all-day programs are expensive because they require additional teaching staff and aides to maintain an acceptable child-to-student ratio.
Districts with increasing enrollment in primary grades don't have room in elementary school buildings for more kindergarten classrooms.
In addition to added expenses and space requirements, opponents believe some full-day programs concentrate on basic skills before children are ready.
Wayne Kruse, a teacher at Quail Run Elementary School, 1130 Inverness Drive, and president of the Lawrence Education Assn., which represents teachers, said elementary teachers in the district have begun discussing among themselves the advantages and disadvantages of expanding all-day kindergarten opportunities.
Kruse isn't convinced that all 19 elementary schools need full-day programs.
"It makes sense to have some full-day kindergarten classes in the district," Kruse said. "But all? That seems excessive."
Copyright 2018 The Lawrence Journal-World. All rights reserved. This material may not be published, broadcast, rewritten or redistributed. We strive to uphold our values for every story published.