At Bowersock Dam, exposed shorelines and excess mud are sure signs that the drought-stricken Kansas River is at lower levels than normal.
The U.S. Geological Survey on Thursday recorded a streamflow of 1,080 cubic feet per second (cfs) at DeSoto, less than half the river's median flow of 2,530 cfs in that area.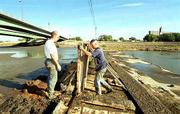 Steve Tucker, Bowersock Mills & Power Co. operations manager, said the dam is generating one-fifth to one-third less electricity because of the weak flow.
"It's affecting us greatly because we survive on the flow of the water," Tucker said.
Jim Putnam, USGS hydrologist, said that although the river is far below average, the low flow is a far cry from the all-time low of 106 cfs in 1956.
The low water level also doesn't appear to be directly affecting Lawrence residents.
The weak streamflow is a result of the drought, and may have been aggravated by an injunction recently placed on reservoir water releases.
The Kansas attorney general's office filed a lawsuit in late September preventing the U.S. Army Corps of Engineers from releasing water from Perry, Milford, and Tuttle Creek reservoirs into the river. Those releases would have emptied water into the Missouri River, cushioning barge travel there.
"It's affecting us greatly because we survive on the flow of the water."
Steve Tucker, Bowersock manager
Gov. Bill Graves and U.S. Sen. Pat Roberts, R-Kan., disagreed with the Corps' plans to lower the reservoirs by up to 6 feet, claiming it would hurt the lakes' wildlife, marinas and water supply.
Steve Hawks, operations manager at Perry Lake Marina, said a 6-foot drop would have been detrimental, making ramps inoperable.
"That's a dramatic drop on this type of lake," Hawks said. "It wouldn't be a good thing." However, without the water releases, Hawks said, Perry Lake is stable.
Bowersock Mills & Power Co. may be unable to claim the same stability, but until appreciable rain falls in the area or the injunction is lifted to allow for releases, workers will take advantage of the low levels to complete maintenance work, plant manager David Readio said.
Putnam said river level conditions weren't terrible and would likely improve with rainfall.
---
MORE: ks.water.usgs.gov
Copyright 2018 The Lawrence Journal-World. All rights reserved. This material may not be published, broadcast, rewritten or redistributed. We strive to uphold our values for every story published.